14 January 2010 Edition
More than a game BY MATT TREACY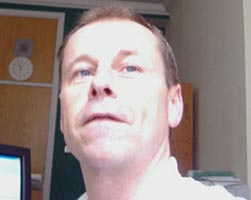 A broken man
WHAT better way to start the New Year than with a broken arm!
Having spent over a week carefully navigating my way through the Siberian wastes of Dublin, I came crashing to the ground opposite Trinity College early on Saturday morning. Several pints later, when reaching for my pocket, I realised that the hand that should have been extracting the money and which I could actually feel in that proximate location was in fact hanging, oblivious, about a foot away.
Maybe it was time to reach out to the caring services rather than the licensed vintners. So, with the help of a Good Samaritan, I made it to James's Street Hospital, which at 2.30am resembled a scene from the Siege of Stalingrad. What I had optimistically hoped was maybe just a bit of a bruise was declared to be a broken humerus and I was admitted to the inner sanctum of Accident and Emergency to join the other victims of the ice and Dublin's traditional weekend visitation of random violence.



THE old adage about there always being someone worse off than yourself is never better illustrated than by a visit to a hospital. Some of the people lying on trolleys looked to be in a bad way, even though one didn't spend too much time examining them.
The only other person apart from myself still on the upside of a night's drinking was an elderly man who had fallen in his kitchen while dancing. To Matt Monroe of 'Born Free' fame, apparently! He insisted on unravelling his elaborate head bandage to show me a gaping wound in his forehead.
"Ah, don't be doing that," I implored him, as much for my sake as his, but he was not to be dissuaded. Fortunately, a nurse spotted him and she was treated to a parable whose burden appeared to be that the pints were grand but stay away from the jaysus whiskey. Words of wisdom.
At five o'clock in the morning you make all sorts of new friends but alas this one was to be short-lived. As he was being wheeled away to be fixed up I wished him luck. I would like to think that I wasn't the "arsehole" he described loudly to his attendant but I wouldn't put money on it.



SOME time later I was brought in and had a vigorous wrestling match with people who straightened out my arm and put it in a cast. There are definitely some occasions when you are as well off having a load on!
Apparently the X-ray showed that this was a success and I was told to leave at about 8 o'clock with the snow whirling and taxis dropping off more casualties of the New Ice Age and La Vida Loca, or a combination of both, as in my own case.
And so it's all down to figuring out how to wash myself (no smart answers from the back, thank you), loading up with calcium-rich food, and hoping the fuck the bone has set and I don't need plates and nuts and bolts. I'm afraid even to think about going back to training and hurling again.
The last time I broke my arm was playing football in 'The Big House' [that would be Portlaoise Jail to most readers – Ed] and it seemed that I was back to normal within a week or two. But then everything seems to have been easier and less complicated in those days.

An Phoblacht Magazine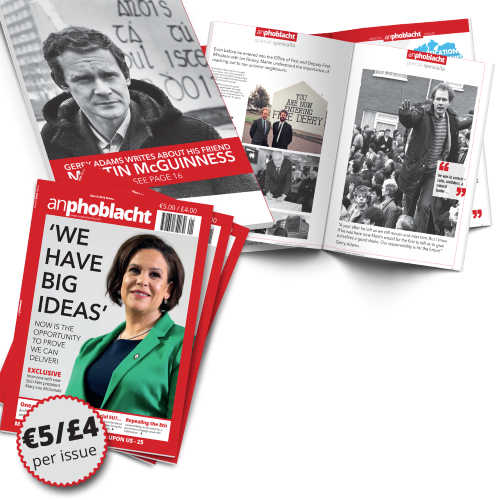 AN PHOBLACHT MAGAZINE:
The first edition of this new magazine will feature a 10 page special on the life and legacy of our leader Martin McGuinness to mark the first anniversary of his untimely passing.
It will include a personal reminiscence by Gerry Adams and contributions from the McGuinness family.
There will also be an exclusive interview with our new Uachtarán Mary Lou McDonald.
test