14 January 2010 Edition
THE JULIA CARNEY COLUMN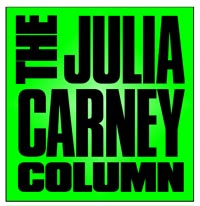 Not so strange bedfellows
A LOT of people were distracted by a minor scandal involving the Robinsons last week. But while the celebrity magazines and tabloid rags obsessed themselves with this, poring over the scandal in the most gratuitous fashion, those of us with a better understanding of politics kept our eye on the big story: the SDLP leadership contest.
Last week, Dr Alasdair McDonnell made an outside-the-box move in the campaign by announcing that his party was a policy vacuum, united only by its hatred for Sinn Féin and its arrogant belief that Jesus Christ himself blessed them as the anointed leaders of Northern nationalism from now until the end of time.
In fairness, that's not quite how he phrased it. His plan is to hold "talks between the three middle-ground parties [SDLP, UUP and Alliance] to find common ground on issues such as economy, health and education".
"It is now up to those of us in positions of authority in the SDLP, the Ulster Unionist Party and the Alliance Party to show true leadership and not pay simple lip service to the concept of political responsibility," said the good doctor, who graciously allows that he might consider applications from the Greens for this new Axis of Mediocrity.
So the SDLP, which affiliates itself to the British Labour Party in Westminster, is looking to form an alliance with the new Ulster Unionist/Tory Party alliance. They're going to unite with them on economic and public services issues at the same time Labour and the Tories are tearing strips off each other in Britain over the economy, the NHS and so on.
What's fascinating is the implication that there's not much difference, certainly not enough to bother about, between those three parties as far as he's concerned.
What's also interesting is that this little initiative of the doctor's ignores the Progressive Unionist Party as well as the DUP and Sinn Féin. But, in fairness, Dawn Purvis is horribly working class.
Still, it's not as radical as you might think.
The Castle Catholics of the SDLP have always been looking for a pat on the head from unionism. It's why SDLP candidates boast about getting unionist votes as if it's something to be proud of.
Let's break this down a little bit. The SDLP is, on paper, a nationalist party with an ultimate objective of a united Ireland at some point in the distant future. Unionists (and the hint here is in the name) are committed to maintaining the Union with Britain, a position that is diametrically opposed to a nationalist position.
Now it doesn't mean we can't all get on. It doesn't make them good and us bad, or vice versa, but it does mean we're on different sides.
But a number of unionists vote for the SDLP. Now I think we can take it as read that it's not because of the standard of constituency service the SDLP provides. Unionists vote for the SDLP not because they agree with them but because they know they're not serious about ending partition or they lack the vision to do so. Better a tame Taig than an assertive republican.



TURNING south, congratulations to the Labour Party, which picked up a councillor over the week and my gratitude to Fianna Fáil's Jim O'Callaghan, who went through the blog of our prodigal son, Killian Forde, to find out what he really thinks of his new friends in Labour.
A year ago, Killian described his now fellow Labour Councillor Eric Byrne as "one of Labour's most dislikeable councillors, on both a personal and a political level", which should make for interesting chat over tea and biccies.
He also put the boot into another councillor, Dermot Lacey, for wearing too much make-up in his election posters, but no doubt they can now share grooming tips in Labour's rooms.
The former leader of his new party, Ruairí Quinn, is described as "the worst sort of liberal, intolerant of anyone's opinion but their own".
The Labour TD Roisín Shortall is described as "a parochial half-wit grafter", which is a bit harsh because, whatever about the others, I always liked Shortall.
Councillor O'Callaghan, who clearly fancies himself a bit of a wit, suggested:
"In light of these comments, Councillor Forde's recent statements of loyalty to the Labour Party should be treated the same as expressions of fidelity from Tiger Woods or Iris Robinson."
My own favourite, though, has to be Killian's description of the late Conor Cruise O'Brien as "Ireland's most intellectually-corrupt politician, whose acts were so singularly treacherous that in many other countries he would have served time".
I think you're giving The Cruiser a challenge for that title, Killian.

An Phoblacht Magazine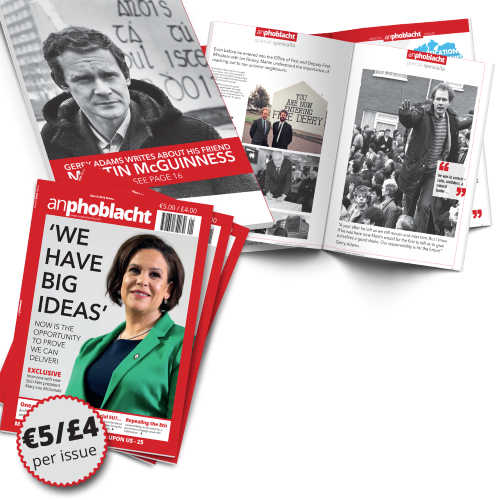 AN PHOBLACHT MAGAZINE:
The first edition of this new magazine will feature a 10 page special on the life and legacy of our leader Martin McGuinness to mark the first anniversary of his untimely passing.
It will include a personal reminiscence by Gerry Adams and contributions from the McGuinness family.
There will also be an exclusive interview with our new Uachtarán Mary Lou McDonald.
test