14 January 2010 Edition
Action demanded after deaths from exposure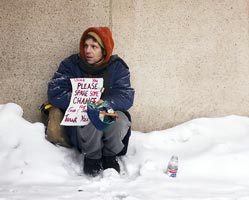 BY EMMA CLANCY
TWO deaths from exposure to the cold in Belfast in the past two weeks have highlighted the vulnerability of homeless people and migrants during this spell of severe wintry weather.
Robert Kowalski, a migrant worker from Poland who was aged in his early 30s, died behind a church on Belfast's Lisburn Road on Christmas Eve. A second man, who was homeless, died from exposure in Belfast city centre on 6 January.
Sinn Féin's housing spokesperson in the Six Counties, Fra McCann, described the recent deaths as "tragic and needless" and has supported calls for the necessary support measures to be put in place to prevent further deaths from exposure.
McCann said that there must be a winter emergency fund put in place in both jurisdictions in Ireland to prevent deaths from the cold, as stipulated in the European Parliament's commitment to eradicating street homelessness by 2015.
Sinn Féin has also supported calls for a crisis fund to be established to assist migrant workers who are not entitled to access public funds.
HOMELESSNESS KILLS
The economic crisis has exacerbated the problem of homelessness across Ireland as unemployment, poverty and home repossessions have risen. The acute lack of social housing, and the long-term failure in both the North and South to address this problem, has meant the housing needs of many thousands of people are not being met and is a direct cause of the rise in homelessness.
The bitterly-cold weather has highlighted the stark fact that street homelessness kills  – and not just in instances of exposure of severe weather. The Simon Community has pointed out that while the average life expectancy of an Irish male is 78 years, the average age of death of someone who is sleeping rough is just 42 years.
There are more than 5,000 homeless people in the 26 Counties, with almost 59,000 on the social housing waiting list. Sinn Féin Housing spokesperson in the 26 Counties, Aengus Ó Snodaigh, described as "an absolute scandal" the fact that there are 270,000 properties lying vacant across the South when such dire need for housing exists.
In the North during 2008-2009, more than 18,000 households presented as homeless to the Housing Executive.
Fra McCann described homelessness as "the most acute denial of housing rights in our society. It is to a large degree a manifestation of social exclusion, poverty and an inadequate supply of secure and appropriate social housing".
Sinn Féin has called for an all-Ireland housing strategy that addresses the chronic shortage of social housing.
Fra McCann said:
"We must also enshrine the basic human right to housing in legislation, introducing a statutory imperative on the two governments to meet housing needs, something which is not in place in either jurisdiction in Ireland.
"However, in addition to action by both governments to improve social housing provision across the country in the medium-term, we need to take immediate action to establish emergency winter funding to support those organisations providing frontline services to the homeless."
MIGRANT FUND
The death of Robert Kowalski in Belfast on Christmas Eve has also shown the specific needs of migrant workers and has prompted calls for a crisis fund for migrant workers who may have become unemployed but are not entitled to public funds and support.
Polish honourary consul Jerome Mullen said it appeared Kowalski had been drinking and died from exposure. Because he did not have a continuous record in work for at least 12 months, Kowalski didn't qualify for state benefits. Most refuges and homelessness agencies will not admit people with substance abuse problems.
The death of the young man echoed the case of Ukrainian woman Oksana Sukhanova, who had to have both her legs amputated after getting severe frostbite as a result of sleeping rough in Coleraine in January 2005. Sukhanova, then 23, had been laid off from her job and became homeless, but nobody had told her she was entitled to financial support from the state.
The North's Council for Ethnic Minorities last year released a report calling for the Executive to set up an emergency fund for migrant workers who had been laid off and were excluded from receiving benefits.
Sinn Féin MLA and spokesperson on ethnic minorities, Jennifer McCann, said the report's recommendation had the party's full support.
"This report once again highlights the need for the Executive to set up an emergency fund for people who may be homeless, sick or vulnerable but due to their immigration status don't have access to public funds," she said.
"This results in families, including children, not having proper access to essential services that the rest of us take for granted. There is a clear need for an emergency fund to be set up by the Executive to ensure the housing, health and educational needs of all people are met."