14 January 2010 Edition
115 jobs in balance in Derry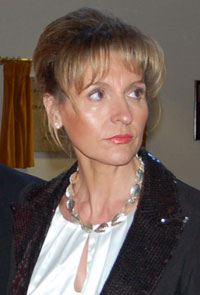 ARLENE FOSTER has been challenged to fulfill her pledge as Enterprise Minister to Foyle Sinn Féin MLA Martina Anderson to save jobs at the Arntz Belting engineering company in Derry, where 115 workers fear losing their livelihoods as the Pennyburn-based firm began a 90-day consultation period from last Monday on the future of the plant.
The German-owned Arntz Belting, a subsidiary of Arntz Optibelt which has been in the city for more than 40 years, has already cut a third of its workforce in the past 12 months. In 2005, it employed 240 people.
The company's Letterkenny plant is reported to be unaffected.
Arntz Belting has made timing belts for vehicles and machinery since 1968 but says there has been a massive drop in sales over the past year.
Martina Anderson insisted there is an onus on Enterprise Minister Arlene Foster to intervene directly. She said:
"Last October, I called on the company to come clean with the staff after I had been informed that they were planning to close the factory in March. I also raised the situation with Enterprise Minister Arlene Foster, who assured me she would intervene 'when appropriate'.
"That time has clearly come and I have today called on the Minister to intervene in order to ensure that all appropriate Government departments and agencies work together to assist the Arntz workforce in securing alternative employment or retraining."
The Sinn Féin MLA said it is "absolutely appalling" how the workers have been treated.
"They should have been treated with respect and given the full picture of what was happening at the company."
SLIM TO NO CHANCE
Phil Oakley, from trade union Unite, said it looks like there is virtually no hope of the factory surviving.
"The company has indicated there is slim to no chance of the order book picking up within the 90 days so we envisage it will be a total plant closure."
But if Arntz does shut down the site must be used as a base for new jobs, Martina Anderson said.
"My thoughts are with the workforce who will be devastated at the possible closure of the plant.
"While we must do all in our power to retain these jobs if possible, we must not lose sight of the need to ensure that this site is not disposed of as part of the company's plans to pull out of Derry.
"It must be retained for employment-generating purposes as I am aware that planning permission for residential and commercial use of the site has already been applied for and refused.
"Clearly, given Arntz's close proximity to Fort George and the Kelvin Telehouse location, this site could become crucial for potential telecommunication clients who wish to locate close to the Telehouse."