14 January 2010 Edition
Policing transfer - critical talks ongoing
Peter Robinson's temporary resignation as the North's First Minister and the revelations made by BBC's 'Spotlight' programme that led to it have diverted attention from what are critical talks between Sinn Féin and the DUP on the transfer of policing and justice powers.
The failure of the DUP to fulfill its political commitments and work the political institutions, as it agreed, on the basis of partnership and equality, has led to a considerable lack of public confidence in the political institutions.
It is now almost four years since the special Sinn Féin Ard Fheis on policing and 14 months since the process of beginning the transfer of powers, that all the Assembly parties signed up to, should have begun.
Peter Robinson is entitled to take this time off from his duties to attend to his personal matters. The matters that the Robinson family are dealing with at this time are personal and private and they are entitled to deal with them in that way.
However, it is crucially important that the outstanding political issues are resolved and resolved speedily.
They cannot become further stalled by this announcement.
As recently as last Thursday, when Martin McGuinness and Gerry Adams met with the DUP leadership, neither Peter Robinson nor Nigel Dodds showed any willingness to agree a date for the transfer of powers on policing and justice. This is despite the DUP commitments on this. It is despite the communal and policing need to do so and to have public safety and law and order issues dealt with by the local administration.
The political commitments made by the DUP must be honoured.
That means setting an early date for the transfer of powers on policing and justice.
There is a limited timeframe for sorting these matters out.
As the high-level talks continue on breaking the DUP-imposed impasse, Sinn Féin is determined to see beyond the current difficulties. Sinn Féin's determination is to focus in a strategic way on ensuring that the political institutions work and that they deliver for citizens.
Whatever happens in the short term, the need for partnership and equality will not go away.

An Phoblacht Magazine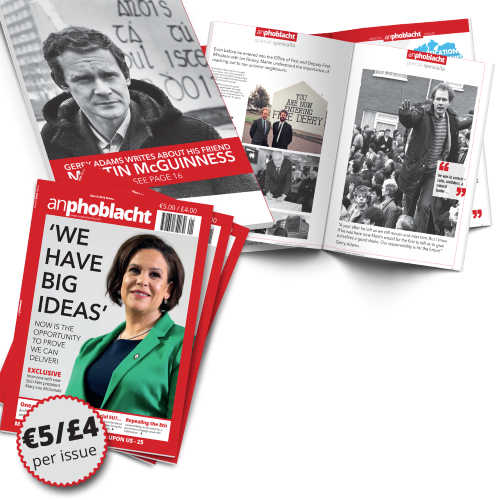 AN PHOBLACHT MAGAZINE:
The first edition of this new magazine will feature a 10 page special on the life and legacy of our leader Martin McGuinness to mark the first anniversary of his untimely passing.
It will include a personal reminiscence by Gerry Adams and contributions from the McGuinness family.
There will also be an exclusive interview with our new Uachtarán Mary Lou McDonald.
test