7 January 2010 Edition
Volunteer Feargal O'Hanlon remembered on New Year's Day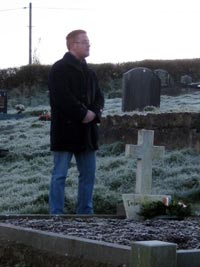 THE annual wreath-laying ceremony by the Republican Movement took place at the grave of Volunteer Feargal O'Hanlon at Latlurcan Cemetery on New Year's Day. It was the 53rd anniversary of the death of the young Park Street, Monaghan, republican alongside his comrade, Volunteer Seán South of Limerick, in the IRA attack on Brookeborough RUC Barracks in County Fermanagh on New Year's Day 1957.
The proceedings were chaired by Sinn Féin Dáil leader and Cavan-Monaghan Deputy Caoimhghín Ó Caoláin. A wreath was laid on behalf of the local Sinn Féin cumann by Pauline Martin and prayers were led by Councillor Pádraigín Uí Mhurchadha, sister of Feargal. The oration was delivered by Seán Ó Murchadha, nephew of Volunteer O'Hanlon.
HIS STRUGGLE CONTINUES
Seán Ó Murchadha paid tribute to all who had served in the ranks of the republican struggle down through the decades – a struggle, he said, "that continues to this day, led by Sinn Féin".
"It is a struggle that asks only that young patriotic men and women today give of their time, their energies and talents in building the demand for real and lasting change that will herald the restoration of the Irish Republic declared in Easter Week 1916," he said.
"Through political strength across the island, as demonstrated in County Monaghan and throughout the Six Counties, Sinn Féin can give leadership to the popularisation of the demand for the restoration of our national rights as a sovereign people."
He concluded by encouraging the active participation of more and more sympathetic people in the ranks of Sinn Féin where their contribution "can be positively channelled towards our shared objectives".