7 January 2010 Edition
Department of Finance 'lottery' of forecasts offers no security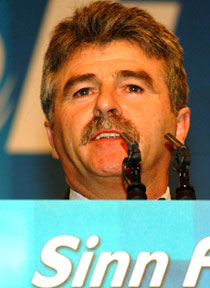 SINN FÉIN Dáil Finance Spokesperson Arthur Morgan TD, responding to the release of recent Exchequer figures by the Department of Finance in the 26 Counties on Tuesday, said that waiting for the Department to get forecasts correct is like playing the lottery and that this inconsistency offers no security in these troubled times. The Louth TD added that the country remains in huge deficit and is about to embark on NAMA, which will seriously hit economic stability.
Arthur Morgan said:
"Today the Exchequer figures are up but we can see from the weakest areas – VAT and income tax – that workers are still being hit hard by this recession. That is unlikely to change in 2010 in the absence of a government strategy for saving and creating jobs.
"Over the last number of years this Department of Finance has thrown out forecasts month on month which have consistently been wrong. On this occasion they have got it right, but waiting for them to get it right is like playing the lottery and offers no security in these troubled times.
"However, we cannot avoid the real issue here. Ireland is still carrying a massive €20 billion-plus deficit and 2010 is the year when the government will implement NAMA, indebting us for further billions. The government cannot claim that the economic situation is turning around when at the same time it is letting debt mount up and is doing absolutely nothing to create and sustain jobs.
"The state cannot continue to limp from month to month hoping for a small glimmer of hope on the horizon. 2010 must be the year when the Irish economy is turned around and that will not happen if the government does not focus on providing employment opportunities."