7 January 2010 Edition
Ógra Shinn Féin: Young republicans growing stronger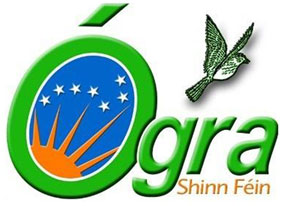 FIANNA ÉIREANN, the original republican youth movement, was founded in 1909. So it is fitting that a hundred years on, we see republican youth still vibrant and growing, with Ógra Shinn Féin continuing to thrive and develop. Here are the highlights of a very active year in 2009.

January
January 2009 had a grim start, with Israel's 'Operation Cast Lead' killing hundreds of Palestinians and causing suffering to many more. Ógra did its utmost to show solidarity with the plight of the Palestinian people, with protests in Derry, Strabane, Cork, Dublin, Portadown, Armagh, Lurgan, Newcastle, Omagh, and Belfast.
January also saw Newcastle in County Down host its first-ever republican weekend, which was a tremendous success. Included were a demilitarisation protest, a torchlight protest against the slaughter in Palestine, a historical tour of south Down, and talks on 'From Prisons to Politics' and 'Lessons from the Cells',  MLAs Catríona Ruane and Barry McElduff took part in the talks, as well as a number of leading local republicans.

February
It was in February of this year that the national student anti-fees movement reached its high point, with 20,000 taking to the streets of Dublin. A sizeable and visible Ógra contingent was there on the day.
The 2009 Ard Fheis also took place in February, with a noticeable youth presence throughout the weekend and with Ógra activists speaking on many motions.

March
The Waterford youth weekend took place in March and was noted as a particularly informative and educational weekend. Along with a talk on economics from David Cullinane, the local launch of Eoin Ó Broin's 'Sinn Féin and the Politics of Left Republicanism' and a talk on the Irish language, there was a tour of Waterford and social nights.
March also saw Strabane host a very successful torchlight vigil for victims of state violence, and Queen's University Belfast hosted a well attended and intriguing debate on the 1916 Proclamation.

April
The run-up to Easter each year sees Ógra roll out its annual campaign seeking equality for the Easter Lily and this year was no different.
There were petitions and launches, and pickets of the Equality Office on foot of its absurd decision to deny the Easter Lily its due recognition.

May
One of the most positive aspects of the year was the reinvigoration of Dublin Ógra, for which the catalyst was the Martin 'Doco' Doherty commemorative weekend in May. The weekend opened with an address from one of Doco's comrades and former Dublin City Councillor Nicky Kehoe and included a republican tour of Dublin, and social events.
The weekend was built around the 15th annual commemoration of Volunteer Martin Doherty, which Ógra attended. It was organised by his son, Mick Farrell.

June
This year's National Youth Camp was hosted in Knockatallon, County Monaghan, with the theme of 'Republican Youth – A Century in Struggle'.
A very full clár included talks from former National Organiser Matt Carthy, Jim Monaghan, Bronwyn McGahan, and Pádraigín Uí Mhurchadha. There was a republican tour of the area and a mobilisation for Bodenstown with some taking part in a Fianna colour party.

July
As part of Ógra's drive to mark the 100th anniversary of the foundation of Fianna Éireann, many areas painted murals. Two of the more striking examples were in Derry, launched in June, and in Strabane, launched in July.

August
The annual Hunger Strike Commemoration on 16 August was in Galbally, County Tyrone, this year. As usual, the annual Ógra Hunger Strike Weekend was organised around it.
The weekend included a republican tour of Tyrone, talks on 'Youth in Struggle' including international speakers and former Fianna members, the unveiling of a plaque in memory of the Fianna, and a talk on the Hunger Strike.
The Saturday night also saw the Fianna Éireann Dinner Dance in Strabane. A Fianna colour party made up of Ógra members led the following day's commemoration.

September
The annual Slógadh na nÓg was hosted in Rath Cairn in September with the theme of 'Tír Gan Teanga Tír Gan Anam'.
The highly-successful weekend involved language classes, talks from local republicans, a tour of nearby Tara and Newgrange, and traditional music sessions.
September and October also saw the season of freshers' days in campuses, North and South, with Sinn Féin signing up an unprecedented number of applicants throughout the length and breadth of the country.

October
The end of the year saw a sustained spurt of growth with the launch of a number of new cumainn. The development of a south Tyrone cumann was initiated this month, and would be followed shortly after by the launch of cumainn in Coalisland/Clonoe, Fermanagh and CIT.
More than 20 Ógra activists attended a suicide prevention training day organised by PIPs (Public Initiative for the Prevention of Suicide and Self-harm) in Belfast on Sunday, 18 October, on what is a touchstone issue for Ógra.

November
In University College Cork, a cross-party model Dáil competition hosted by the UCC International Relations Society saw cumann chair Seán Ó Sé, previously better known for his singing skills, emerge with the best individual speaker award.
November also saw the key event of the year, with in excess of a hundred young republicans travelling to the Felons' Club in Belfast for what was widely regarded as an excellent Congress opened by Uachtarán Shinn Féin, Gerry Adams.
The weekend also included lengthy debates on various motions, public talks, a film showing, workshops with a selection of senior republicans, the launch of a mural, social nights, a football match, a Fianna Éireann Dinner Dance and the launch of the new national campaign 'Who Fears to Speak of a United Ireland?' Senator Pearse Doherty was the keynote speaker.
Few young republicans envied Dublin Ógra on 28 November as they undertook a successful 24-hour day of action to highlight the plight of the homeless. This culminated in a sleep-out in front of the GPO which Aengus Ó Snodaigh TD and Councillor Matthew McDonagh also participated in.

December
Newly-appointed National Organiser Donnchadh Ó Laoghaire spoke at the UCC Philosophical Society in favour of the motion that 'This house believes in a 32 County republic', and succeeded in getting the motion carried comfortably.
The year began as it ended, with Ógra standing in solidarity with the oppressed overseas.  Tuesday 24 November saw 34 young Basque youth activists arrested for their political beliefs in a shocking display of oppression. In solidarity, Ógra organised many protests and Ógra activist David Collins also visited the Basque Country to join a rally against the arrests.
Ógra successfully mobilised in support of the imprisoned Basque youth and will continue to highlight instances of oppression at home and abroad over the next 12 months, and will continue to grow and develop into 2010.
Membership of Ógra Shinn Féin is free and open to anyone aged 15 to 29 who supports a united Ireland and the establishment of a democratic socialist republic
www.osf.ie 

An Phoblacht Magazine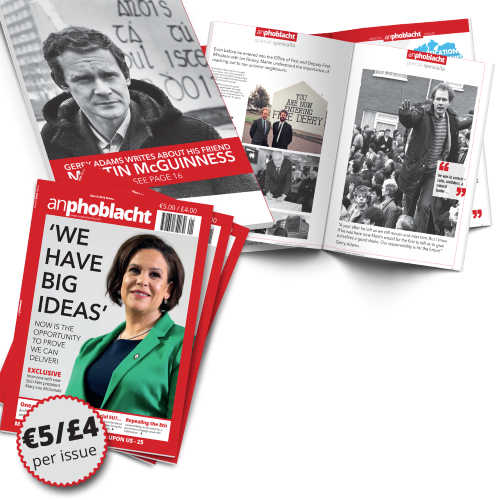 AN PHOBLACHT MAGAZINE:
The first edition of this new magazine will feature a 10 page special on the life and legacy of our leader Martin McGuinness to mark the first anniversary of his untimely passing.
It will include a personal reminiscence by Gerry Adams and contributions from the McGuinness family.
There will also be an exclusive interview with our new Uachtarán Mary Lou McDonald.
test