7 January 2010 Edition
New Year message from Sinn Féin President Gerry Adams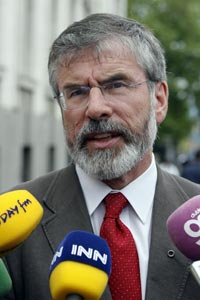 In a New Year message Sinn Féin President Gerry Adams said:
"2009 will be remembered as a difficult year economically for people across Ireland. Global circumstances may have contributed but the decisions and policies of the Fianna Fáil/Green Party government and its predecessors, and the greed and dishonesty of some bankers and speculators, have shaped this crisis. 2010 must see a sustained effort to sort this mess out.
In June Sinn Féin became the largest party in the North. We have continued to show leadership through trying and difficult political circumstances. The two governments have failed to deliver on commitments made. Sections of political unionism continue to resist the need for power sharing on the basis of equality and partnership. Through all of this our focus has been on ensuring that the all-Ireland political institutions are stable and that citizens' rights and entitlements are guaranteed.
A Westminster election will take place in 2010. In advance of this a sustained effort to see the implementation of the outstanding aspects of the Good Friday and St. Andrews Agreements, including the transfer of powers on policing and justice, will take place. Republicans will do all in our power to ensure that this is successful. It is in the interests of all citizens that we have institutions which can deliver. That means institutions operated on the basis of partnership and equality and on the basis that political agreements entered into are implemented.
Aside from politics, personally the last number of weeks have been a difficult period for my family and myself. I would like to thank people across Ireland who have been in touch to express their solidarity with us at this time."