7 January 2010 Edition
Adams attacks Woodward remarks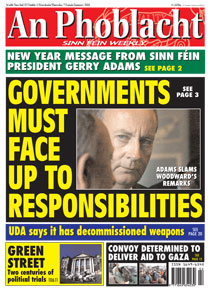 Gerry Adams has described remarks by the British Secretary of State Shaun Woodward in relation to the recent political impasse in the political process and the failure to devolve powers over policing and justice from Britain to the North of Ireland as "banal and silly".
Following a meeting with Irish Minister for Foreign Affairs Mícheál Martin, Shaun Woodward spoke about the the DUP and Sinn Féin finding ways to resolve their differences, on the way forward and he said:
"We are both confident that there is no issue on the table that the political parties and political leaders can't find a way of resolving and we won't give them artificial deadlines; it's for them, the parties, to work out," he said.
But Gerry Adams slammed Woodward's remarks, saying:
"Shaun Woodward's tenure here has been characterised by endlessly banal sound bites without substance. He knows the difficulties in the political process are not 'difficulties between the DUP and SF'. They are a result of the failure of the DUP to fulfil its obligations under the terms of the Good Friday and St Andrew's Agreements.
"These Agreements are also accords between the British and Irish governments. It is disingenuous to pass the buck to Sinn Féin for the failure to implement agreements . Sinn Féin is prepared to work through issues with the DUP, and Martin McGuinness has shown remarkable leadership and patience in this endeavour.
"Continued failure by the British government to face up to its responsibilities is unacceptable. No amount of waffle by Shaun Woodward can disguise this. The governments should be acting on their responsibilities.
"The two governments have a duty to act as guarantors of the St Andrew's Agreement. I told Mr Woodward this yesterday. Martin McGuinness and I also urged the Taoiseach to meet with Gordon Brown on these matters".