17 December 2009 Edition
Lavery backs Food for Thought project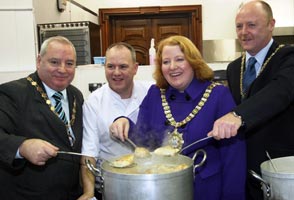 SINN FÉIN Deputy Mayor of Belfast Danny Lavery accompanied the city's mayor Naomi Long and High Sheriff Frank McCoubrey to promote the 'Food for Thought' initiative in the City Hall on Monday 14 December, 2009.
Celebrity chef Stephen Jeffers cooked a meal for the three civic dignatories and other guests using food that was destined for landfill to highlight the food waste that exists in Belfast.
Also involved in the scheme was the Six County based Council for the Homeless who are calling for edible food, that ends up in landfill, to be redirected and used for the benefit of homeless people living with the effects of food poverty.
Speaking to 'An Phoblacht' 'Danny Lavery, the Sinn Féin Deputy Mayor said, "the sad reality is that people in Belfast and beyond are going hungry while edible food is going to waste. If the Food for Thought project becomes a reality then it will make a real difference by diverting food destined for landfill and redistributing it to those in need.
"We are highlighting the real commodity at the centre of this issue – food – and demonstrating how this can be put to its rightful use to feed families and keep people healthy rather than adding to landfill".