10 December 2009 Edition
Justice Minister warns gardaí not to strike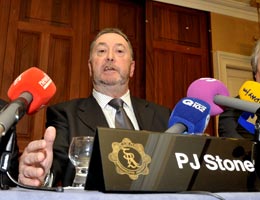 THE Garda Representative Association's announcement this week that it will ballot 12,000 police officers for industrial action after the collapse of last week's talks by public sector unions with the Government has led to Justice Dermot Ahern insisting the Government will not tolerate any industrial action by An Garda Síochána.
The Justice Minister said the move would be a challenge to the authority of the state and one which the Government "would not countenance".
Under the Garda Síochána Act, members are not allowed engage in industrial action and there are serious penalties for breaches of the act. But GRA General Secretary PJ Stone has said that the state cannot be allowed to continue to use the law to deny gardaí the right to engage in industrial action, including supporting the withdrawal of labour during any upcoming days of protest organised by the Irish Congress of Trade Unions.