10 December 2009 Edition
Anglo Irish Bank ex-CEO sues state-owned bank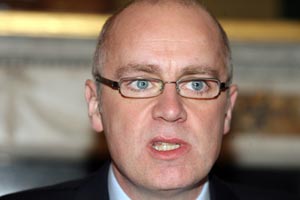 On eve of nightmare Budget, banker sues taxpayers for €2.6m for loss of bonuses

BY BRENDAN KERR

THE former CEO of Anglo Irish Bank – now nationalised and therefore owned by taxpayers in the 26 Counties – is suing the bank for €2.6 million compensation over losing his job and bonuses after he resigned last year when it emerged the bank had been keeping directors' loans secret from shareholders.
David Drumm is also resisting attempts by Anglo Irish to get a court order for the repayment of €8.3 million in unpaid loans.
Now living in the exclusive Cape Cod region of the United States, Drumm says he has the money to repay the loans but Anglo Irish is "premature" in seeking repayment.
Anglo Irish Bank is also taking a separate action against Drumm and his wife over the transfer of their house in Malahide into her name.
Anglo claims this was a "fraudulent conveyance". The house was recently withdrawn from the market at a price of €2.3 million.
Anglo Irish Bank claims that the transfer of the property into Mrs Drumm's sole name will hinder, delay or possibly defeat the ability of the bank to enforce any judgment it gets in its claim for the repayment of the loans of €8 million.
The case will be heard by the Commercial Court in the New Year.