10 December 2009 Edition
Budget day protest over oil and gas giveaway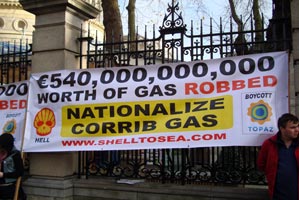 SHELL TO SEA campaigners protested outside the Dáil on Budget Day to highlight the Irish Governments' ongoing giveaway of hundreds of billions of euros of Irish gas and oil to large multinationals while at the same time imposing harsh cuts to public services and the social welfare system.
Dublin Shell to Sea spokesperson Caoimhe Kerins said:
"If the government leaks concerning the extent of the cutbacks in today's budget are to be believed, a total of four billion is to be cut from public expenditure. To put the value of Irelands' gas and oil reserves into perspective, they are conservatively estimated to be well over 100 times this amount at approximately €420 billion. Meanwhile, Minister Eamon Ryan continues issuing licenses which gift Ireland's gas and oil to multinationals."
The value of gas in the Corrib field alone was estimated at up to €8 billion by the Minister for Communications, Energy and Natural Resources Eamon Ryan. Thanks to legislative changes made by Ray Burke and Bertie Ahern, this is being handed over to a private consortium led by Shell, with no return, royalties or security of supply to the Irish people.
CAPITULATION
"It is our belief that the total capitulation of successive Fianna Fáil led governments to the banks, developers and speculators have landed us in this current economic and fiscal crisis. It is also clear to us that the Fianna Fáil ministers who negotiated the fiscal arrangements over Corrib with Shell and its partners, equally allowed the oil companies to dictate the terms of the deal.
"In the words of Mike Cunningham, former director of Statoil E&P Ireland 'No country in the world gives as favourable terms to the oil companies as Ireland'. While the relationship between former Fianna Fáil ministers Bertie Ahern, Ray Burke, Frank Fahey and the developers have been the subject of investigations and tribunals, the same politicians have yet to explain to the Irish people how they managed to give away our natural resources."
Shell to Sea is a national campaign in support of the Mayo community which is most affected by the Corrib Gas Project. It has six local branches around Ireland. The group seeks to ensure that the Corrib gas is depressurised and odorised offshore in accordance with international best practice. It is calling for a renegotiation of the fiscal terms of the licenses granted to Shell and the consortium involved in the Corrib gas project to ensure that the Irish people see the benefits of our natural resources.