10 December 2009 Edition
Another View by Eoin Ó Broin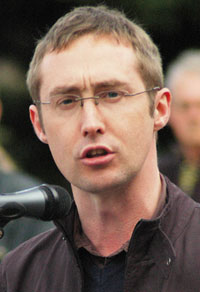 Engaging Labour
IN his February 2009 Ard Fheis speech, Gerry Adams called for an, 'egalitarian alternative to the politics of greed, inefficiency, waste and corruption.'
He called for realignment in Irish politics to end "the dominance' of Fianna Fáil and Fine Gael.
"The Labour Party" argued Adams "has a duty not to prop up either Fianna Fáil or Fine Gael. Instead Labour should explore with us and others the potential for co-operation in the future."
The following month in his Ard Fheis speech Eamon Gilmore said that, "to end crony capitalism, you have to end crony politics". He told delegates that Labour's mission is "to build a new, better and fairer Ireland".
A week earlier in a 'Sunday Business Post' interview Gilmore ruled out a left alliance. He told Pat Leahy, "There will be no alliance with Sinn Féin, parties of the left, with individuals of the left. There will be no alliance of that kind."
While officially the Labour Party's objective is to become the second largest party in the state and lead the next government, party strategists know that if it is in the next government it will be as a junior partner to Enda Kenny's Fine Gael.
Such a coalition can not create "a new, better and fairer Ireland". It will be a conservative government, dominated by a resurgent, right-wing Fine Gael.
So where does this leave Sinn Féin's call for an alliance for change? Should we abandon any hope of Labour working for a realignment of Irish politics? Is Labour really no different to Fianna Fáil or Fine Gael?
For this writer there will be no realignment of Irish politics without Labour. No alliance for change can be built without their active participation.
Thus Sinn Féin should not abandon the Labour Party but develop a strategy of engagement. The purpose of this strategy would be threefold.
Firstly it would be to demonstrate to the Labour Party that republicans are serious about the long term objective of transforming the social, political and economic landscape of the country.

Secondly it would be to build effective working relationships at a local and national level with Labour and its supporters on issues of common concern.
Thirdly it would be to strengthen the hand of those within the Labour Party, and its broader support base in the trade union movement and civic society who believe that such an alliance is not only possible, but realisable.
There are many activists and supporters within the Labour Party who do not want to be part of a Fine Gael coalition. There are others who simply do not see any other viable option in the short term.
Those of us who believe that a better, fairer Ireland is possible have a responsibility to engage and convince those who share our broad values and aspirations that an alliance for change is the best way forward.
But an alliance for change will not emerge on its own. Those of us who believe in it need a strategy, including a strategy for engaging with the Labour Party.
This year's European elections saw the combined left vote in the 26 Counties reach 30% for the first time in the history of the state. The economic and political model promoted by Fianna Fáil and Fine Gael is in crisis. There has never been a better time for the left to promote a real alternative.

An Phoblacht Magazine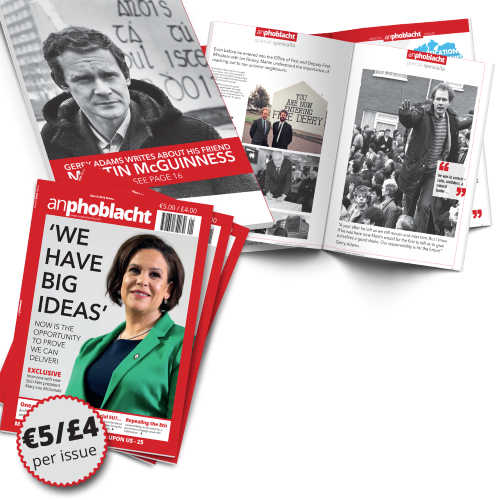 AN PHOBLACHT MAGAZINE:
The first edition of this new magazine will feature a 10 page special on the life and legacy of our leader Martin McGuinness to mark the first anniversary of his untimely passing.
It will include a personal reminiscence by Gerry Adams and contributions from the McGuinness family.
There will also be an exclusive interview with our new Uachtarán Mary Lou McDonald.
test