10 December 2009 Edition
Budget launches war on the poor and protects the wealthy
WITH the announcement of Brian Lenihan's Budget, the Irish Government has declared war on the poor and those who cannot afford to live on less and has moved to protect the wealthy.
Going into this budget the most crucial question that faced the Fianna Fáil/Green Party Government was "Whose side are you on?"  On Wednesday they gave their answer.
As those on low and average incomes and dependent on welfare find themselves left to drown in debt, poverty and hardship, the Minister for Finance steers a lifeboat full of bankers, property developers, higher civil servants and the wealthy to safety.
The axe has fallen where it poses least risk to the friends of Fianna Fáil. A callous decision has been made to protect those who financially back Fianna Fáil.
Sinn Féin is also clear whose side it is on. It stands with those whose needs the state should be looking after.  In a costed pre-Budget submission the party showed how it was possible to avoid social welfare cuts.
Sinn Féin would tax wealth rather than push people into poverty. The public's inherent sense of justice demands that those who can afford to make a larger contribution to solving the shortfall in revenue be asked to do so.
We remember the 1980's when the politics of Fianna Fáil and Fine Gael gave us unemployment, emigration, public service cuts, taxes on children shoes, widescale corruption and tax evasion. The same type of politics ensured that the prosperity of the 'Celtic tiger' era was not used to tackle inequality or create world class public services but was instead used to further enrich an elite golden circle.
It is time now for a different kind of politics. It is time for an alternative.  It is time for those who have for too long been silent to take a stand.
Low paid public sector workers cannot accept a cut in their incomes. Young people cannot accept cuts in their dole payments when there are no jobs. The low paid and those dependent on social welfare cannot tolerate the fact that the government has chosen to target them. It is time to fight back.
An Phoblacht Magazine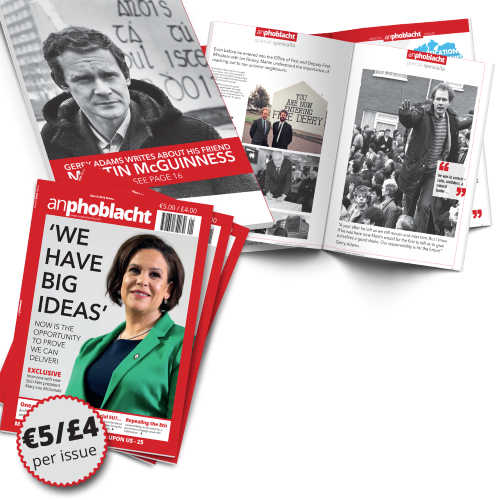 AN PHOBLACHT MAGAZINE:
The first edition of this new magazine will feature a 10 page special on the life and legacy of our leader Martin McGuinness to mark the first anniversary of his untimely passing.
It will include a personal reminiscence by Gerry Adams and contributions from the McGuinness family.
There will also be an exclusive interview with our new Uachtarán Mary Lou McDonald.
test