26 November 2009 Edition
Tribute to Ivan Barr and Charlie McHugh a memorable occasion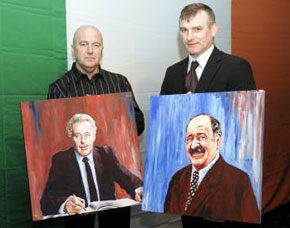 OVER 300 people attended a tribute function in memory of deceased Strabane District Sinn Féin Councillors Ivan Barr and Charlie McHugh at the Mellon Country Hotel on Saturday night.
Following the meal a minute's silence was observed as a mark of respect for Winnie Harte (mother of Volunteers Gerard and Martin Harte, who were killed at Drumnakilly) who had passed away early on Saturday morning.
Cllr Jarlath McNulty, who acted as Fear an Tí for the evening, then introduced Ivan's daughter, Anne Marie, and Charlie's brother, Maoliosa, to lead family tributes in memory of the veteran councillors. Both delivered poignant and powerful family reflections as a pictorial history of the life and times of their loved ones was screened onto the backdrop of the stage.
In a musical tribute, Terry Boyle sang The Ballad of Joe Hill in memory of Ivan and 'Blowing in the Wind' in memory of Charlie.
Sinn Féin West Tyrone MP Pat Doherty was then introduced to speak.

SOCIAL JUSTICE
He detailed how the political activism of Ivan and Charlie long pre-dated their subsequent election to Strabane District Council for the first time in 1985.
He said that this political activism was built upon the burning commitment both Ivan and Charlie had for social justice and a united Ireland. He went on to detail how Ivan and Charlie, along with Councillor Tommy McNamee, were subject to vicious abuse by unionist councillors and exclusion from all council positions in those early years of council but how. Through sheer resilience and dignity, they were able to not only resist this provocation but, through time, were able totally transform the culture and practices of Strabane District Council.
He said the pioneering work and example of Ivan and Charlie had laid strong foundations for the growth of Sinn Féin in the Strabane district.

PRESENTATIONS
After Pat Doherty spoke, Terry Boyle presented portrait paintings which he had done of Ivan and Charlie to the Barr and McHugh families and Sinn Féin Councillor and Chair of Strabane District Council Kieran McGuire then presented specially-commissioned framed mirror tributes to both families.
Ann Brolly concluded this section of the evening with a rousing rendition of Give Me Tyrone. Music at the function was then provided by Gerry Cunningham and Pat Casey to round off what was an extremely emotional but memorable evening.

• RESILIENCE AND DIGNITY: Strabane District Sinn Féin Councillors Ivan Barr and Charlie McHugh