26 November 2009 Edition
Keep Christmas bonus to stop moneylenders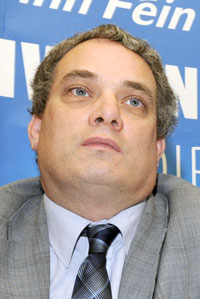 THE Christmas social welfare bonus should be reinstated to relieve the added pressure on families at this time of year and stop some being forced into the grasping clutches of moneylenders, Sinn Féin Social and Family Affairs spokesperson Aengus Ó Snodaigh has said.
The Dublin South Central TD was speaking as St Vincent de Paul launched its annual Christmas appeal.
Aengus Ó Snodaigh said:
"As St Vincent de Paul highlighted today, there has been a 30% increase in requests for help as families are struggling to cope.
"Sinn Féin has highlighted this issue before as we feel it's very important to protect those on social welfare this Christmas.
"There are other ways to cut spending in the Budget without interfering with the Christmas bonuses or other social welfare payments.
"Sinn Féin has highlighted in our Pre-Budget Submission how the €4 billion gap in public spending can be made without resorting to targeting social welfare or public spending."