26 November 2009 Edition
Sinn Féín condemns attacks in Belfast and Fermanagh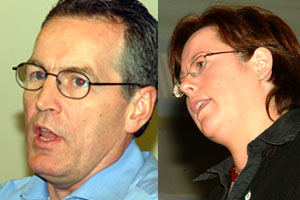 SINN FÉIN has condemned those involved in attacks in two separate violent incidents in the North last weekend. A bomb exploded at the headquarters of the Policing Board and shots were fired in County Fermanagh.
A 400lb bomb partially exploded after a vehicle broke through a barrier outside the headquarters of the North's Policing Board in Belfast on Saturday. Nobody was hurt.
Sinn Féin Assembly member Gerry Kelly said:
"The Policing Board is made up of locally-elected politicians and members of the public working to hold the PSNI to account. This attack is an attack not just on the Policing Board members but on the communities who elect them. It is unacceptable and I condemn it.
"If this attack is the work of one of the small republican militarist groupings then my message to them is very clear: these actions are futile and have no place in advancing republican or democratic objectives; these activities need to end."
And Gerry Kelly also had a message for political figures genuinely opposed to these attacks.
"Those of us in political leadership need to keep moving this process forward. We must continue to demonstrate that politics can work and indeed will deliver for all communities."
FERMANAGH
Sinn Féin MP for Fermanagh/South Tyrone Michelle Gildernew has condemned a shooting incident in Garrison, County Fermanagh, also on Saturday.
Gildernew said on Sunday:
"Firstly, I am thankful that no one was injured in the shooting incident in Fermanagh.
"These actions will not advance either republican or democratic objectives and I condemn them. They simply highlight further the need for political leadership in moving the process forward.
"Politics can work and must work in order to deliver for our people. The groups who carry out attacks like last night's have nothing to offer our community.
"It is also crucial that the Police Ombudsman's investigation into last night's shooting incident is completed quickly and the findings made public."