19 November 2009 Edition
THE JULIA CARNEY COLUMN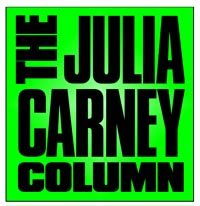 Fear, loathing and public sector workers
TOMMY stepped back into the shadow of the vacant lot off Dublin's Aungier Street as the crowd of youths rushed towards him. They were out for blood, bats and crowbars in their hands. "There's a bunch of them cornered on Nassau Street," one of them yelled excitedly. 
Tommy kept his eyes down, tried not to attract their notice. If they guessed his identity there wasn't a hope of escape.
He tried to keep his hands from shaking as they ran past and then, in case anyone had noticed, tried not to let the relief on his face be too obvious. These were dangerous times. Many of his closest friends were dead, their bodies hanging from lampposts around St Stephen's Green.
With the gang gone by Tommy crossed the road carefully, looking over his shoulder to make sure he wasn't being followed. "The green door next to Lawlor's on Aungier Street," Gerald had told him. "They take in our kind. It's safe." 
So Gerald had told him but Gerald was dead now, his body floating in the Liffey with the rest.
Tommy knocked on the door and after a moment a hatch opened and two dark eyes peered silently out, waiting for Tommy to say something.
"My name's Tommy. Gerald sent me."
No response.
"I need a place to hide. It's not safe for me on the streets."
The man behind the door continued to wait, saying nothing, and Tommy realised he'd have to take a leap of faith.
"Please," he begged, "I'm a public sector worker."
Instantly the bolts behind the door were snapped open and he was ushered in.
"Quickly now," said the doorman, "before you're seen, down the corridor on the left."
The house was dark inside and Tommy had to find his way along the corridor by touch before turning to the left and entering what had clearly been a living room once but was now crowded with nurses, fire fighters, civil servants and even the odd bus driver. There weren't many of them, they were the ones who'd fought back.
They looked up in terror when Tommy came into the room but as soon as they realised he wasn't after them they returned to their shame. After looking round the room for an empty space Tommy slumped down next to a haggard looking man in his 40s. They nodded at each other and then, in answer to the unasked question in Tommy's eyes, the man admitted what he'd done.
"Fire fighter...the name's Rob," he said.
"If only," he went on, "I had realised that every time I went into a burning building on the point of collapse to rescue a family choking to death on the smoke I was destroying the economy."
He put his head in his hands and wept.
Tommy could do nothing to help. He had his own shame to deal with. For ten years he had worked as a psychiatric nurse. He remembered the patients he'd looked after, holding them in his arms to bring them comfort, trying to ease the loneliness of those for whom visitors never came, on call 24/7.
And all the time he'd been destroying the fabric of Irish society. His wife had known before he had. 



"Your defined benefit pension scheme has doomed us all," she'd screamed at him after watching Pat Kenny on Frontline, holding their firstborn in her arms as if he had some sort of plague.
Maybe she was right. Just because he'd been a psychiatric nurse didn't mean his child shouldn't dream of a life in a non-union minimum wage job in Starbucks. A real job, one that meant something. He shouldn't have to end up like his father.
They'd been warned. You couldn't blame the media for this. They'd highlighted the danger posed by public sector workers, the enemy within, for years. With their sick pay and their annual leave and their pensions. It was insane. Scandalous. It had to come to an end.
Tommy suspected that deep down Enda Kenny hadn't quite meant mass murder when he said they needed to purge the civil service. And when Eamon Gilmore said he would face down public sector workers he probably hadn't expected this to happen but we'll never know. The mob hanged both of them on the first day and, well, it kind of got out of hand a little after that.
Darkness fell outside but the streetlights didn't come on. They'd hanged the ESB workers first. And the rioting continues because there's no Gardaí. The injured lay in the streets because there were no ambulances and anyway, there was no one to staff the hospitals.
Still, Tommy reflected, it was probably for the best. With all the public sector workers dead or in hiding the economy was bound to pick up. 

An Phoblacht Magazine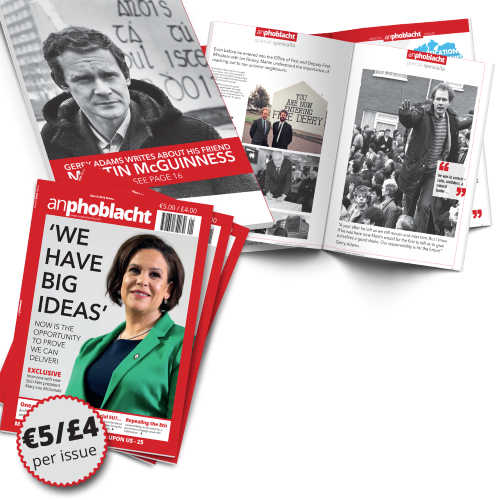 AN PHOBLACHT MAGAZINE:
The first edition of this new magazine will feature a 10 page special on the life and legacy of our leader Martin McGuinness to mark the first anniversary of his untimely passing.
It will include a personal reminiscence by Gerry Adams and contributions from the McGuinness family.
There will also be an exclusive interview with our new Uachtarán Mary Lou McDonald.
test