19 November 2009 Edition
British 'air war games' anger families and farmers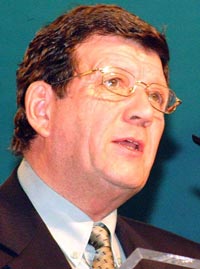 BRITISH military aircraft 'war games' carried out over Tyrone and Fermanagh between Thursday and Sunday last week have angered local people and provoked protests.
West Tyrone MP Pat Doherty says his office was contacted by several people from the Eskra and Beragh areas who reported a relenting and deafening noise which terrified young children and older people.
These manoeuvres went on until after midnight on Sunday and kept school-age children awake until the early hours. Local farmers also reported their livestock being extremely frightened and distressed.
Pat Doherty said:
"I spoke to one gentleman who told me that he reported the matter to aviation control at St Angelo Airport in Enniskillen but he was told it was the British Army engaged in a 'training exercise' in aircraft which were flying as low as 7,000 feet."
The complainant reported that aviation control told him they had received over 40 complaints at that stage.
DARKER DAYS
The West Tyrone Sinn Féin MP said:
"During the conflict, the people of mid Tyrone became accustomed to the British Army disrupting their daily lives with foot patrols and roadside searches. Fifteen years into a Peace Process, this has reminded them of darker days which they do not want to return to."
As the MP for West Tyrone, Pat Doherty is raising this issue as a matter of urgency with British Secretary for Defence Bob Ainsworth and NIO Security Minister Paul Goggins.
Pat Doherty concluded:
"If the British Army insists on playing war games, it should do so in its own backyard instead of terrifying and angering the people of this part of Ireland."