19 November 2009 Edition
Opinion: The end of the 11-Plus is the end of a failed system
An education system where all children can realise their full potential

BY PAT DOHERTY MP

THE media spotlight is on the plight of those pupils who will be sitting the unregulated tests. I wish them all well and hope they understand that they are unique, valued individuals regardless of what their test results are.
I would also like to pay tribute to the majority of children who will not be sitting a test but who will be transferring into a post-primary school which teaches the exact same curriculum as grammar and offers access to the same level of qualifications as grammar schools.
These pupils also deserve our attention and regard as they prepare for the next chapter in their academic and vocational lives.
The primary-post primary transfer guidelines set out by Education Minister Caitríona Ruane signal an end to the days of the 11-Plus and the end of a regressive era which saw the educational and life opportunities of children being predetermined on the arbitrary basis of two one-hour tests based on narrowly-defined academic criteria which failed to take account of the all-round abilities of each and every child.
What Caitríona Ruane has announced is much more than an end to the 11-Plus or any other form of academic selection as a method of post-primary transfer – it is part of a wider transformation of the education system fit for the modern era.
The Revised Curriculum now being taught in all primary schools recognises and nurtures the ability of each child and prepares that child in a more holistic way not only for the opportunities and challenges of post-primary education but also for the opportunities and challenges of everyday life.
The transformation of the education system at post-primary level will see the provision of the widest possible curriculum (the Entitlement Framework) being made available to all children in terms of both academic and vocational subjects and will inject a wide range of choice and flexibility for pupils that has never before been provided.
The curriculum provides for an academic path, vocational path or a blend of both academic and vocational. With this curriculum children choose a pathway at the age of 14 not by stressful exams but in conjunction with parents and teachers based on sound advice.
Those within political unionism and other vested interests who claim that the system is not broken and therefore does not need fixing could perhaps explain why a majority of 11-year-olds in the Six Counties have, for generations, been made to feel like failures; explain why many of our post-primary pupils leave school with no formal academic qualifications; why 43% achieve five GCSEs or less; and explain why less than 35% of our young people progress to third-level education in comparison to 72% in the 26 Counties.
Changing this longstanding system may be difficult for some but it is absolutely essential if the statistics above are to be reversed and the life chances of all of our children are to be transformed for the better.
Academic selection has been abandoned in most developed countries across the globe and in every case academic achievement has increased. In Finland (which abandoned selection in 1972), academic achievement rose from 72nd in the world to now leading the way in the number of children achieving top grades.
We call on all those who are genuinely opposed to the socially unjust practice of academic selection to recommit themselves to ending it, not by accommodating further testing on the false promise of 'Give us more time and we will change.' The facts are the grammar lobby has had 50 years to change and they have continually held on to their unjust system.
We welcome the fact that the Catholic sector will move away form the practice of academic selection within two years. I hope others reconsider their position and open their schools up to centres of educational excellence for all.

An Phoblacht Magazine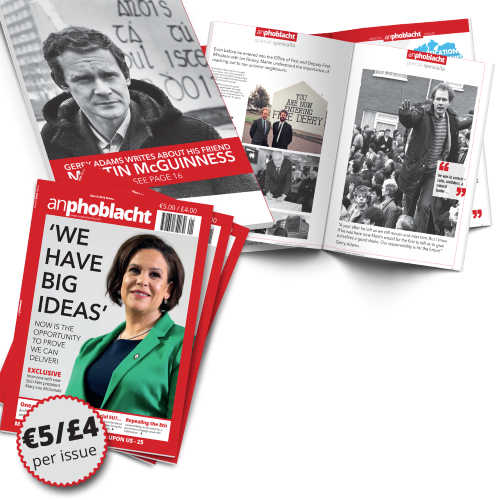 AN PHOBLACHT MAGAZINE:
The first edition of this new magazine will feature a 10 page special on the life and legacy of our leader Martin McGuinness to mark the first anniversary of his untimely passing.
It will include a personal reminiscence by Gerry Adams and contributions from the McGuinness family.
There will also be an exclusive interview with our new Uachtarán Mary Lou McDonald.
test