19 November 2009 Edition
Wicklow's worthy honouree - Eric Montgomery
BY ELLA O'DWYER

ERIC MONTGOMERY is to be honoured at a dinner dance in County Wicklow next month. Originally from east Belfast, a 95% unionist area, Eric and his younger sister went to live with an aunt in Bray when he was five. It was just at the outbreak of the Second World War and there were air raids on Belfast so his parents moved the two children for safety. Then, in 1945, when his father died, his mother came to live with them in Bray.
While he remembers little about his early years in Belfast except the sounds of the air-raids, he recalls a very happy upbringing in Bray.
"It was a great place for kids to grow up.
"You had the sea and the mountains around you and I always loved fishing and still do. I was fishing from when I was eight and I still fish as a hobby."
At the age of 17, Eric moved back to Belfast for want of employment.
"There was no work to be had in the South at the time and you couldn't even get into an apprenticeship so my uncle said I should come up to Belfast because he could get me work in Short and Harland, an aircraft factory.
"I was working in the tool room where we made the tools necessary to assemble the plane. It was considered a very good job. There were 600 of us working there – mostly Protestants – and it took a year before they discovered I was a Catholic. They tried hard to get me moved out of the job then but without success."
So, from a very early age, Eric was aware of sectarianism.
"After they discovered in the factory that I was a Catholic I really knew what sectarianism was.
"Even though they couldn't get me out of the job, you could just feel they looked down on you. It wasn't just that you were regarded as a second-class citizen; you were seen as a fifth-class person. You could just feel it."
When the aircraft factory went into liquidation and a job turned up in a factory in Bray, Solus, which made electricity bulbs, Eric moved back to Bray. He was 35 at this stage and that's when he got actively involved in republicanism. But he had been interested from a far earlier stage.
"I was always interested in reading about the IRA and interested also in the Irish language. I met a republican when I came back to Bray and that led to my getting involved. That man was Frank Driver."
Frank Driver, who died in 1981, was interned in the Curragh. A Kildare native, he was born in Ballymore Eustace on the border with Wicklow and took part in the IRA Border Campaign of the 1950s.
"Frank was probably the person who most influenced me in terms of my republicanism. He was involved right back to the Forties. I was arrested in 1976 when weapons were found in the basement of my house. I was charged with possession of mortars, hand grenades and various paraphernalia like that. I was on bail for six months before being sentenced to eight years. I appealed the sentence but [Eric laughs] the judge told me I was lucky I didn't get a lot more."
Eric was in Portlaoise Jail along with Jim Monaghan, Gay Cleary and Joe Reilly.
"Joe made a great salad and we used to eat together at weekends. I got stuck into study while in jail and took my O-Levels and A-Levels in Irish.

"I served six years and was released in 1982. Then I helped set up the Kevin Delaney Sinn Féin Cumann here in Bray. Back then I was a bit dubious about the Peace Process but, of course, I came to realise that there was no way we were going to win by military means alone. The war had been taken as far as possible and it had served its purpose.
"And I was also very dubious about trying to engage with unionism. As far as I could see, there was no way you could get them to engage. I had worked with them, after all, and even though I had friends among them, the latent sectarianism was going to be a big obstacle to change. Recently you see that with the delays in the transfer of policing and justice powers. But again there was no way we were going to get change purely by military means.
"I haven't been involved much in recent years. I'm 74 now and I developed cancer some years ago so I had to slow down."
Eric is married to Patricia (Pat) and they have one daughter, also Patricia. Eric says he has had a good life and is still enjoying it.
"I've had an absolutely very happy life. I still fish from my boat and I work at gardening three days a week."
I suggest to him that he must be a bit of a VIP if Gerry Adams was coming down to do the honours and that he better have a big speech ready.
"Oh, I hope they don't expect me to give a big, long talk. You can only hold people's full attention for about three or six minutes so I'll be keeping it short."
Was he surprised to be asked to be the honouree?
"I was absolutely astounded when they told me I was to be honoured at this dinner dance in December because I can think of many more people from Wicklow more worthy than I."
Not so, apparently, and Eric may prepare a longer speech.
One of those involved in the organisation of the upcoming function is Sinn Féin's Jason Doyle. The 21-year-old Jason tells me about the selection of Eric as honouree.
"Eric's been around a long time in the Movement. I could listen to Eric for hours, the stories about prison in particular. Myself and Mick O'Brien caught up with him a few months back. As part of our work in Sinn Féin's Organisational Development Unit we called in to Eric to tap his brain for a few ideas regarding the development of the party locally.
"A few short weeks later we planned a dinner dance to honour a dedicated republican who has worked their entire lives to further the struggle of Irish freedom. 'Well, who more fitting than Eric?' we thought, so John Brady and myself called up to ask would he accept being our honouree on the evening. We were delighted when he accepted, saying he was truly honoured that we had thought of him.
"Why wouldn't we think of him?"
Bodenstown: Frank Driver laying the wreath on Wolfe Tone's grave in 1981 
An Phoblacht Magazine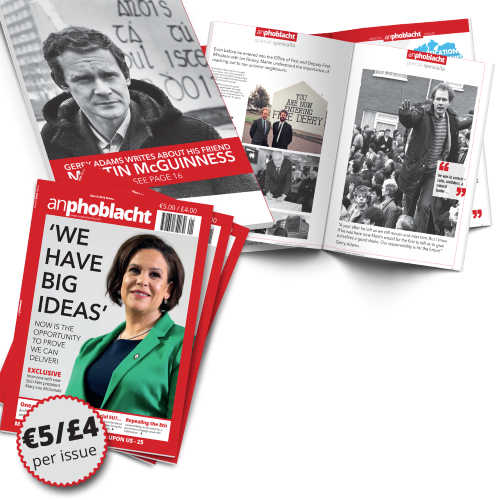 AN PHOBLACHT MAGAZINE:
The first edition of this new magazine will feature a 10 page special on the life and legacy of our leader Martin McGuinness to mark the first anniversary of his untimely passing.
It will include a personal reminiscence by Gerry Adams and contributions from the McGuinness family.
There will also be an exclusive interview with our new Uachtarán Mary Lou McDonald.
test