19 November 2009 Edition
Huge support for next week's strike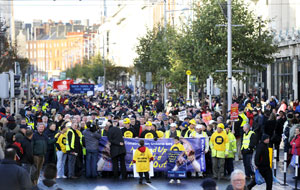 AS EACH DAY passes, more and more workers in the public sector in the 26 Counties pledge their support for the one-day stoppage next Tuesday, 24 November, and the Irish Congress of Trade Unions' campaign to get the Fianna Fáil/Green Party Government to examine alternatives to single-mindedly looking at cutting pay, conditions and jobs during the recession.
Brian Cowen and John Gormley want to impose compulsory redundancies to reduce the €20 billion public service pay bill by €1.3 billion in 2010.
SIPTU, Ireland's largest union, voted on Tuesday by overwhelming majorities by its public sector members – including government, education, health and fire services – to support the strike.
In the past week, teachers from the three main unions voted to back the strike, closing all schools across the state. Five thousand craftworkers in local authorities and the health service, members of the Technical, Engineering and Electrical Union ("The Power Union"), have voted to be out next week.
And even the Government's own top-ranking civil servants have voted to down pens and log off computers over Government plans to cut their wages at a time when they say their salaries have already been cut by 17% this year.
The Association of Higher Civil and Public Servants, representing 3,000 senior civil servants and managers, has voted 60/40 in favour of the 24-hour walk-out next Tuesday.
Huge numbers are expected to back next Tuesday's strike to send a message to Government TDs that 'There is a Better Way.'
Unite the Union's 6,000 members in the public sector voted by more than 80% in favour of strike action. Now they'll be joined by 65,000 members of the teaching unions, 55,000 members of IMPACT and 40,000 nurses as well as members of SIPTU.