19 November 2009 Edition
Fight for a fairer alternative
THERE is deep anger across the 26 Counties as the most unpopular government in living memory prepares to implement what may well be the most savage budget in the history of the state.
The Government has chosen to bail out corrupt bankers, their shareholders and dodgy developers and to target ordinary workers, households and those on social welfare for cuts.
They have opted to protect the Golden Circle rather than fund the building of hospitals, schools and other vital public services, and create jobs.
The Government is trying to convince people that restoring economic competitiveness can only be achieved by slashing wages and public spending. This is simply not true. The Government has been assisted in propagating this lie by a chorus of conservative economic and media commentators – the same people who failed to question the worst excesses of the Celtic Tiger era.
Government policy is both unjust and economically wrong-headed. It punishes those who had no part in creating the current difficulties and rewards those who did. It penalises those who can least afford it and panders to those who can.
There is a fairer, more economically literate alternative to the Government's slash and burn approach. In a detailed pre-Budget submission, Sinn Féin has shown that it is possible to raise the finance needed to maintain frontline public services, protect those in need, reduce the deficit in state finances and provide an economic stimulus package to create jobs.
The state has a duty to protect its citizens, not the interests of banks and a wealthy minority. There is an economic alternative. It is a matter now of political choice.
We have seen which side this Fianna Fáil government is on. Now it is up to ordinary people to fight for a fairer alternative.
An Phoblacht Magazine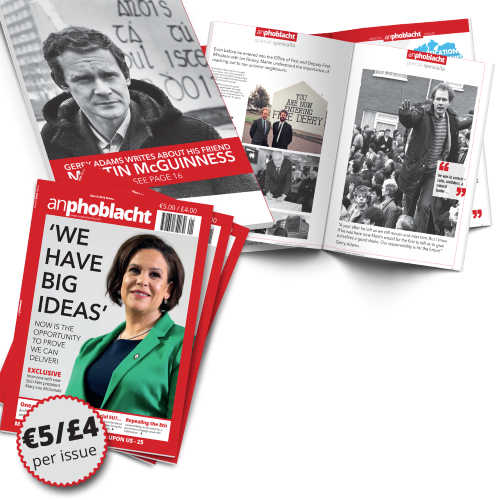 AN PHOBLACHT MAGAZINE:
The first edition of this new magazine will feature a 10 page special on the life and legacy of our leader Martin McGuinness to mark the first anniversary of his untimely passing.
It will include a personal reminiscence by Gerry Adams and contributions from the McGuinness family.
There will also be an exclusive interview with our new Uachtarán Mary Lou McDonald.
test