12 November 2009 Edition
PSNI fail to meet deadline for on handing over Stalker Report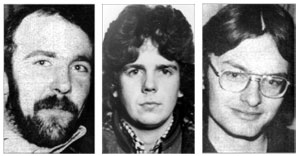 SINN FÉIN MLA Martina Anderson has said that it is unacceptable that the PSNI has again failed to supply the North's coroner with a copy of the Stalker report.
Speaking on Tuesday Anderson said:  
"Senior Coroner for the North John Lecky ordered the PSNI to supply a copy of the Stalker Report to the inquest of six men killed by the RUC in 'Shoot to Kill' operations in the early eighties. The deadline set by the coroner expired yesterday and as yet the PSNI have failed to comply."
Those killed were IRA Volunteers Gervaise McKerr, Eugene Toman and Sean Burns as well as INLA Volunteers Seamus Grew and Roddy Carroll. The sixth to be killed was 17-year-old Michael Tighe who was shot dead by the RUC in a hayshed that was under surveillance by MI5 at the time.
"The inquests into the deaths of these men cannot proceed without the Stalker Report and the last inquest had to be abandoned due to the RUC refusal to hand over the report.
"At the Policing Board last week Assistant Chief Constable Drew Harris stated that the PSNI would hand over Stalker-Sampson Report by 9 November . It is unacceptable in that not only have the PSNI refused to hand over the Report but they have also misled the Policing Board", Anderson said.
"Sinn Féin intends to raise the issue as a matter of urgency as we will not allow bad practices of the RUC to be carried through into the PSNI. We are demanding that the Stalker Report is given to the Coroner's office immediately so that these inquests can proceed as soon as possible", she said.