12 November 2009 Edition
Palestinians break Israel's wall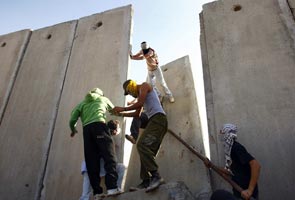 PALESTINIANS and foreign activists tore down segments of Israel's separation wall this week in a demonstration marking the 20th anniversary of the fall of the Berlin Wall.
In the town of Qalandiya in the occupied West Bank, a group of masked activists using a lorry pulled down a two-metre cement block before Israeli security forces confronted them with tear gas grenades.
Several of the estimated 50 demonstrators passed through the hole they had made, hoisting a Palestinian flag and setting ablaze tyres on the other side.
Activists have vowed to hold a week of protests in the Palestinian territories and around the world, including a campaign calling for the release of all anti-wall activists currently imprisoned.
Last Friday, Palestinian youths almost toppled a segment of wall using a hydraulic car-jack in the West Bank village of Nilin.
Protests against the wall have become a regular event in Nilin and in the nearby village of Bilin, where Palestinian, international and Israeli activists are commonly confronted by tear gas and rubber bullets fired by Israeli troops.
Israel began building its barrier, consisting of fences and walls, in 2002, citing security reasons.
The wall is up to 8m high in places, twice the height of the former Berlin Wall. Palestinian sources anticipate that it may be more than 750km-long when construction is finished, more than four times the length of the Berlin wall.
Palestinians say the route of the wall has been set in such a way that it grabs land that could have been included in a future Palestinian state.
The International Court of Justice, in a non-binding decision in 2004, said the Israeli-built barrier was illegal and should be taken down because it crossed into occupied territory.
A report by Stop the Wall, a Palestinian coalition of NGOs opposed to the wall, said that in 2007 alone, Israel demolished more than 160 houses and appropriated more than 3sq km of land in the Palestinian West Bank in its construction of the wall.