12 November 2009 Edition
Another View by Eoin Ó Broin
The Bacik Report
LAUNCHING a Joint Oireachtas Committee report on women in politics last week Senator Ivana Bacik argued that increasing the numbers of women TDs would require strong legislation.
The report listed a series of measures aimed at increasing women's participation in politics including civic education programmes, financial supports, facilitation of childcare and family responsibilities, mentoring and training programmes, and support for women's networks.
However the most important proposal in the report is its call for a law that would penalise political parties who failed to operate a quota system in candidate selection.
Put simply, such a law would reduce state funding to political parties that do not achieve a target of at least 33.3% women candidates for the next general election.
Women account for half of the population, but only 14 per cent of TDs in Leinster House.
By international standards women's representation in Leinster House is bad and getting worse. The world average of women in parliament is 30 %.
In 1990, the 26 Counties was in 37th position in the world classification of women's representation in national parliaments. 
By 2009 the state had fallen to 84th position, with 23 women TDs out of 166 representing just 14%.
The Bacik Report, like the 2002 National Women's Council of Ireland report, Jobs for the Boys, is an important document. It should be read by the leaderships of every political party and anyone with a serious interest in gender equality.
The report outlines, clearly and simply, why women are underrepresented in politics; the impact this underrepresentation has on our democracy; and the steps that are needed to redress the imbalance.
It makes many sensible and obvious recommendations including:


Political party meeting times and venues should be reviewed and adjusted to accommodate the caring responsibilities of party members.
Childcare supports should be provided for parents in politics.
State funding should be earmarked for women candidates until a certain target of representation is reached.
Political parties should provide additional funds to support women candidates.
Political parties should introduce recruitment drives specifically aimed at women, seeking to identify recruit women in local areas, both as party members and candidates.

However, even if all of these recommendations were implemented women's advancement in electoral politics would still be halted. The reason is because of what is known as 'the rule of incumbency'. Put simply this rule dictates that in an average election 90% of seats are won by sitting TDs.
Of the 166 current TD, 143 are men. The rule of incumbency suggests that of these seats, only 10% or 14 actual seats are likely to change hands in an average election.
On the basis of the current figures, if women won 14% of these 14 seats, that would be an extra 2 women in the Dáil per election. In turn this would require 35 elections or 179 years before women's representation in parliament reached parity with men.
Indeed the 2002 National Women's Council of Ireland report Jobs for the Boys estimated that it would take 370 years to reach parity.
And this is assuming that everything else works according to plan, which it never does.
So the bottom line is this. If you believe that women should be better represented in parliament and you don't want to wait over 100 years before it happens, then something has to be done to break the rule of incumbency.
The only way to do this is to force political parties to select more women candidates, and to peanalise them if they don't.
If you don't support mandatory gender quota legislation, they you don't support equality for women in electoral politics.

An Phoblacht Magazine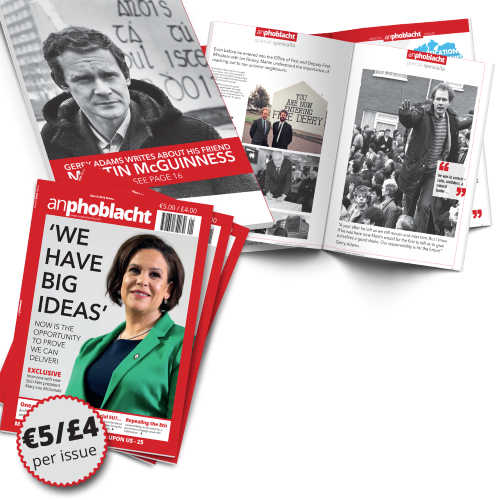 AN PHOBLACHT MAGAZINE:
The first edition of this new magazine will feature a 10 page special on the life and legacy of our leader Martin McGuinness to mark the first anniversary of his untimely passing.
It will include a personal reminiscence by Gerry Adams and contributions from the McGuinness family.
There will also be an exclusive interview with our new Uachtarán Mary Lou McDonald.
test