12 November 2009 Edition
Sinn Féin launches campaign to restore Christmas Bonus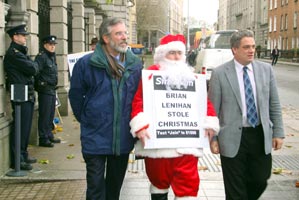 SINN FÉIN this week launched its campaign to have the Christmas  Social  Welfare payment restored. Party President Gerry Adams and Social and Family Affairs Spokesperson Aengus Ó Snodaigh TD, were joined at the launch by Santa Claus who accused the government of stealing Cristmas for many families.
Speaking outside the gates of Leinster House in Dublin on Wednesday Gerry Adams said:
"The axing in April's emergency budget of the Christmas Social Welfare payment (better known as the Christmas Bonus) is one of the meanest and most scrooge-like cuts I have ever witnessed. Not even during the harsh economic times of the 1980's was this payment axed.
"Having sat on their hands while thousands of jobs were lost over the past year  this  Government now wants  to make things even harder for ordinary families and pensioners dependant  on  social  welfare this Christmas.
"As well as the hardship it will mean for those directly affected, the axing of  Christmas  Bonus  makes no economic sense.  It will result in millions of euros being  taken out of local economies putting jobs at  further risk.
"But what does it say about society here in Ireland?  Sinn Féin believes that  the  measure  of  any  society  is  in how it looks after its most vulnerable people. This Government clearly does not share that priority with us.
"Between now and the Budget Sinn Féin will be doing everything we can to put pressure on the Government to restore this payment."
Aengus Ó Snodaigh warned that a failure to restore the payment would push  those  struggling to get by further into poverty and into the arms of  ruthless  moneylenders.
"This is  one of the meanest cuts introduced in decades. Families with children use  this money to cover the costs of Christmas and there is a real  danger  that  without  it  people will be pushed into the hands of ruthless money lenders", said the Dublin South central TD.
"Elderly people use this additional payment to help cover the costs of fuel over the  winter and as a result of this cut will undoubtedly go without sufficient heating this year.
 "Many of the people who will be affected by the removal of the Christmas bonus are as yet not aware of the fact.  The people affected don't have savings to cope with this unexpected reduction in their income – unlike the golden  circle that this government panders to, the people affected by this cut don't have nest eggs tucked away or overseas bank accounts that they can turn to.
"The Scrooge-like nature of the cut, introduced in April's emergency budget,  symbolises  the extent  to which this government is willing to throw the least well off overboard while protecting a wealthy elite.
"Not only has this cut dire consequences for those directly affected, it is also bad for small businesses and retailers. By taking money out of local towns it will depress local  economies and put businesses and retailers who  rely  on the Christmas trade under further pressure. It will restrict the  spending capabilities of thousands this Christmas, further contracting the economy and increasing unemployment.
"Sinn  Féin is demanding the restoration of the Christmas Social Welfare payment and  we will be stepping up our action on this issue in the coming weeks, putting pressure on the Government to act."