29 October 2009 Edition
Meath Policing Committee must be relevant to local people, says Sinn Féin mayor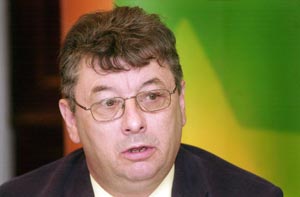 THE new Meath Joint Policing Committee (JPC) must prove itself to be relevant to the people, Sinn Féin Mayor of Navan Joe Reilly said at its inaugural meeting last week.
The Sinn Féin councillor has played a key role in lobbying for the JPC.
Mayor Reilly said:
"I am delighted that this committee has finally been established after many years of lobbying. However, the JPC will only be relevant to people on issues of anti-social behaviour, crime and drug dealing if the local community are centrally involved and have confidence in the structure.
"It must make a tangible difference to the quality of their lives."
The Sinn Féin councillor said that Meath needs an effective police service and an effective police service needs the support of the community it serves.
"For this reason it is essential that there is total transparency and trust between the police service and the community. If a community participates in policing and supports the police, problems can be solved more effectively and efficiently.
"We want to put the emphasis on policing being a community service and away from the current situation which has its emphasis on security."
He added that, hopefully, the JPC will evolve into a body that enables fully-democratic, accountable and transparent policing to be the norm.
AUTHORITY
As a key proponent of the idea, Joe Reilly welcomed the formation of Meath JPC and the intention to have a focused strategic workplan in place in the immediate future but noted:
"Unfortunately, it has not been bestowed with the same level of authority as the Policing Boards in the North. The JPC only has an 'advisory' role and the local Garda Division is not required to have their annual policing plan placed before the JPC for approval as in the North."