29 October 2009 Edition
Stoneyford loyalist's computer seized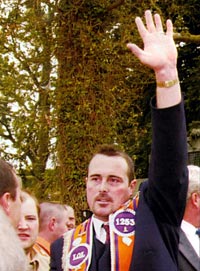 THE PSNI have confirmed that computer equipment and other items were seized from the County Antrim home of leading loyalist 'hard man' Mark Harbinson.
A spokesperson for the PSNI acknowledged that a number of items, including computer equipment, had been taken away for further examination from the house near Stoneyford, nine miles from Belfast.
The raid on Harbinson's home, according to the PSNI, was carried out under Section 4 of the Protection of Children NI Order 1978.
Harbinson was not arrested but the PSNI said that Harbinson could could face questioning in the coming weeks.
In 1999, the 40-year-old loyalist was questioned by the RUC after a raid on Stoneyford Orange Hall uncovered thousands of British crown forces security files containing the details of republicans from across the North.
Harbinson, who was a key holder of the hall, was released without charge.
In 2002, he played a prominent role in Orange Order protests against the decisions by the Parades Commission to bar Orange marchers from the Garvaghy Road in Portadown.
During that period he was convicted of rioting and given a 12-month suspended sentence.
THREATS
In February of last year he was questioned about a death threat against a Catholic teenager in Stoneyford and a month later he was again quizzed by the PSNI over an alleged assault on Sinn Féin MLA Paul Butler.
Over the past 10 years, numerous Catholic families, targeted by loyalist thugs, have been driven from Stoneyford leading to criticisms of the PSNI.
Sinn Féin's Paul Butler has previously gone on the record to accuse the PSNI of protecting the loyalists behind the pogrom.