29 October 2009 Edition
Health Minister must release cash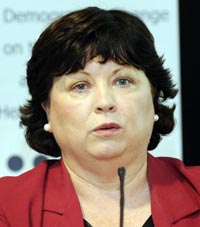 THE funding badly needed to provide intensive care unit beds for life-saving operations at Crumlin Children's Hospital must be released by Health Minister Mary Harney, Sinn Féin Health & Children spokesperson Caoimhghín Ó Caoláin has demanded.
Ó Caoláin said that the case of two-year-old Joy Lawlor Doyle, who is awaiting heart surgery, has highlighted the plight of many other children whose operations have been cancelled or delayed because of the lack of ICU beds at Crumlin.
The Sinn Féin TD said:
"It is a disgrace that on the day last week when Joy's mother phoned the hospital, three of the four scheduled operations had to be cancelled because of the lack of ICU beds. This was despite the fact that the cardiac surgeon and his team were available all day."
MONEY FOR CO-LOCATION
Ó Caolain angrily pointed out that the Minister for Health & Children, Mary Harney, "continues to waste public money on her pet scheme of co-location" which, years after its inception, has not provided a single additional hospital bed.
"Yet life-saving operations for children are cancelled for lack of beds in Crumlin, a situation replicated in hospitals across the state," he fumed.
"I will be challenging Minister Harney on this issue on the resumption of the Dáil next week."