22 October 2009 Edition
THE JULIA CARNEY COLUMN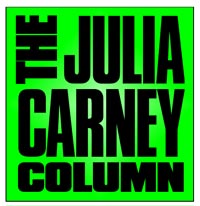 Seeing Orange about the Pope popping over
"WHEN you see the abomination of desolation standing where it should not be, let him who is on the housetop not go down, or enter in, to get anything out of his house; and let him who is in the field not turn back to get his cloak. For those days will be a time of tribulation..."


THERE you have it. If the Pope comes to Lisburn, the world's going to end. For the heathens among you, that's Mark, Chapter 13, from the Bible and the "abomination of desolation" is the Antichrist. As we all know, or should, the Antichrist is the Pope and if there's one place the latest group of Orange supremacists believe he 'should not be' it's anywhere in the Six Counties.
Last month, Ian McCrea, the son of travelling folk singer and former MP Willie McCrea, let us know that he's not impressed.
"I believe a visit from the Pope should be vigorously opposed for a number of reasons. First of all, the majority of people in Northern Ireland are Protestant and belong to denominations that hold to the belief that the Pope is the Antichrist."
Really, Ian? Do they really?
Despite my cheerful atheism (a product of three decades of Catholic teaching), I'm going to go out on a limb here and suggest that most Protestants are a bit more copped on. I find it difficult to imagine a bunch of them down the pub discussing where you can buy good shrubbery, the size of the extension the wife wants, and whether Eberhard II von Truchsees, the Prince-Archbishop of Salzburg, was right to denounce Pope Gregory IX as the Antichrist at the Council of Regensburg in 1241. The answer to the last, by the way, is probably not.
But buried in this entertaining sectarian rant is a nugget of interest.
"I have been made aware, that should there be a visit from the Pope to Northern Ireland it will face the vent of Protestant opposition and therefore I believe that it would be detrimental to community relations."
Now if this was any other member of the cast of Deliverance that makes up the DUP's backwoodsmen and serving women you'd just roll your eyes to Heaven (not that you have any right to, Papist dog) and be done with it.
But Ian's creator, Willie, has form.


FATHER Willie's not all twinkly eyes, folk singing and cheeky Taig-bashing rhetoric. Back in the 1990s, he supported sectarian fanatic Billy Wright, former capo of the UVF's Mid-Ulster murder brigade (a wholly-owned subsidiary of MI5 and the British Military Intelligence's FRU) and later founder of the even more sectarian Loyalist Volunteer Force.
The LVF's still with us even if they haven't killed anyone in a bit. They're currently defending the Union by dealing ecstasy to working-class communities in Portadown and Lisburn. "Me only crime, yer honour, is loyalty to queen and country... and dealing a Class-A drug," as LVF sympathisers often say in court.
So when Ian's talking about "Protestant opposition" and "detrimental to community relations" he might be suggesting something more than a strongly-worded letter to the Belfast Telegraph or an even more bitter than usual text to BBC's Talkback. Has this man never heard of the Mitchell Principles of non-violence? For shame, Ian, for shame.


THE heart of this new programme of non-Popery seems to be an organisation called the Orange Reformation, whose tagline is "Putting Protestantism back into Orangeism". And there was me thinking the Grand Lodge were 80% Hindu these days.
Anyway, at a meeting in Markethill on the Monday before last they launched a "new" (this is new for loyalism how?) initiative entitled "No Pope Here". The organisers called on the Orange Order to campaign against any visit by Catholicism's favourite former Hitler Youth member because of the "many outrageous and blasphemous claims that are made concerning the Papacy".
But Orange Reformation is itself seen as too radical by the top brass of the Orange Order, according to a statement on its highly entertaining site.
"Orange Reformation is disgusted at the threats from the leadership of the Orange institution in their attempts to silence and crush the movement."
You tell 'em.
"We fail to see how a group that exists to underpin the Protestant basis of the Orange institution and that has established a network of Prayer Triplets could be seen in any way as a threat to anyone unless, of course, you are trying to lead the institution away from biblical Protestantism!"
Heaven forbid. Personally, I don't know how anyone could be threatened by a Prayer Triplet. They're like Pokémons, right?
But much as we might get a laugh out of these people this is the scary part of hardline loyalism. Just when you think they've reached the limit of their nasty, bigoted, racist and supremacist ideology, they surprise you and push it out a little more.

An Phoblacht Magazine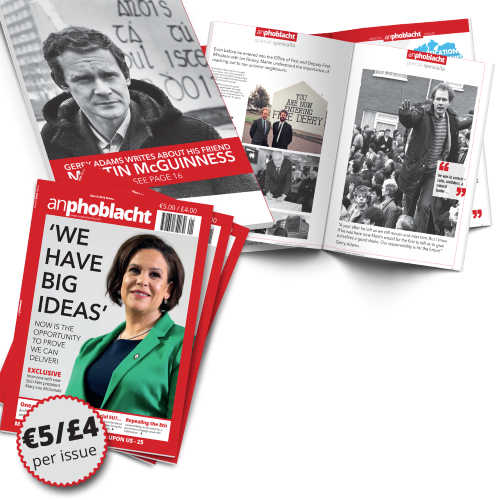 AN PHOBLACHT MAGAZINE:
The first edition of this new magazine will feature a 10 page special on the life and legacy of our leader Martin McGuinness to mark the first anniversary of his untimely passing.
It will include a personal reminiscence by Gerry Adams and contributions from the McGuinness family.
There will also be an exclusive interview with our new Uachtarán Mary Lou McDonald.
test