15 October 2009 Edition
Another View by Eoin Ó Broin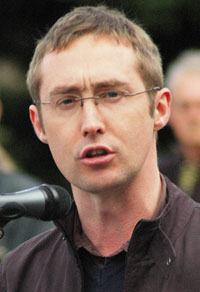 Outrageous Fortunes
IT really takes something to get me angry these days.
In a world of greed and corruption, the impropriety of John O Donoghue's expense claims or the political opportunism of the Green Party just seem so run of the mill.
Even NAMA and its outrageous €50 billion risk to the taxpayer doesn't make me angry. What would you expect from a Fianna Fáil government?
But one story that did make me angry last week was the announcement of RTÉ's top earners.
Pat Kenny's salary for 2008 was €950,976. That's €28,000 more than his 2007 salary and €100,000 up on 2006.
Gerry Ryan wasn't far behind, on €629,865, while Marian Finucane received €570,000, an increase of almost €100,000 on 2007.
Meanwhile, RTÉ golden boy Ryan Tubridy has got a whopping €200,000 pay rise since 2006; last year he got €533,333.
And the more pedestrian Joe Duffy and Eamon Dunphy scored €408,889 and €328,051, both up considerably on 2007.
All of these people earned more than Barack Obama and Gordon Brown. They even earned more than our overpaid Taoiseach Brian Cowen whose salary at €232,572 is higher than his British and US counterparts.
More significantly for this writer, the RTÉ high-flyers received between 10 and 27 times the average industrial wage of €38,000 and somewhere between 10 and 20 times the pay of most teachers, nurses, gardaí, and other frontline public sector workers.
What does this say about our society and the value it places on people?



ARE Pat Kenny, Gerry Ryan, Marian Finucane or Golden Boy Tubridy really worth 15 nurses or schoolteachers?
Are they really 17 times more valuable that the average worker?
Is their contribution to society really so much more valuable than literacy tutors, community workers, or carers for people with disabilities?
Of course not!
This is public money, paid by RTÉ licence-holders and general taxpayers. Paying such high salaries for these people is a disgrace, not only because of the sums of money involved but because of what it says about who we are as a society.
Each of these broadcasters should be publicly ashamed of their salaries. They are leeching off the public purse, promoting a culture of greed.
However, the real outrage is that RTÉ management considers such high salaries appropriate and that Government willingly allows our money to be wasted in this way.
The case for a cap on public sector pay has never been more compelling than in this case. If Pat Kenny, Gerry Ryan, Marian Finucane or Ryan Tubridy want to be paid such obscene salaries, let them emigrate.
And while we are at it, lets not stop at broadcasters. Let's make the argument for a maximum salary in the public sector and for pay scales to be graded on the basis of social value.
The argument that you have to pay such salaries to attract talent and skill simply no longer holds any credibility. After all, look at what we pay our bankers and Cabinet ministers.

An Phoblacht Magazine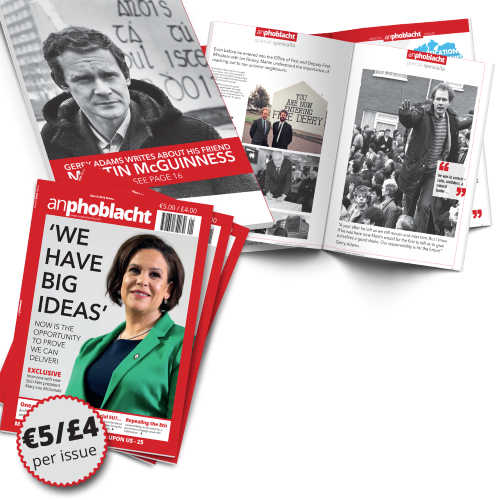 AN PHOBLACHT MAGAZINE:
The first edition of this new magazine will feature a 10 page special on the life and legacy of our leader Martin McGuinness to mark the first anniversary of his untimely passing.
It will include a personal reminiscence by Gerry Adams and contributions from the McGuinness family.
There will also be an exclusive interview with our new Uachtarán Mary Lou McDonald.
test