15 October 2009 Edition
Robert Delany: The campaign for justice continues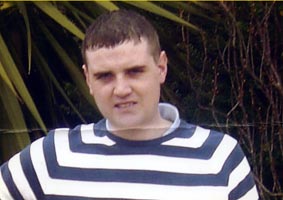 BY ELLA O'DWYER
ROBERT DELANY, a 28-year-old postman who was shot in Tallaght on 24 October last year, remains in what's called a "vegetative state" in Tallaght Hospital. Robert was shot in the face at 6.30am one morning as he looked out the window of his apartment at Russell Rise, off Fortunestown Way, to see who was pressing the doorbell. It is believed that the shooting happened as an outcome of an incident in the summer of last year when Robert intervened to rescue someone who was being attacked outside a pub in Saggart.
Since that incident, Robert had been getting threats on his life. His partner, Mags, and his two young daughters, Megan (7) and Katie (2), were in the apartment when the shooting happened. Mags phoned the ambulance straight away and Robert was in Tallaght Hospital in about 15 minutes. But all the indications were that Robert's head injuries were so serious that he wouldn't survive. Then it was decided to transfer him to Beaumount Hospital where surgery was carried out which saved his life. While Robert is physically strong and well, his brain has been so seriously damaged as to leave him in a condition that is described as a "living death".
In February of last year, Sinn Féin President Gerry Adams and South Dublin County Councillor Seán Crowe met with Robert's father to give support to the family in their search for justice. In the same month, stories began to appear in the media alleging republican involvement in the attack or that criminals were using the name of republicanism, a suggestion that caused outrage amongst republicans.
"This incident had nothing to do with republicans and it is reprehensible if those involved tried to use the name of Irish republicanism to cover themselves," Gerry Adams told An Phoblacht in February last.
"In recent times, a number of politically-motivated journalists have waged a campaign to link republicans with criminals and criminal activities. This campaign has been a matter of huge frustration and anger to republicans throughout Ireland, many of whom work at the coalface in local communities dealing with the effects of anti-social behaviour and serious crime."
Gerry Adams appealed for the public to assist in the quest for justice for Robert Delany.
"The shooting of Robert Delany is an act of thuggery carried out by criminals.  Anyone who has information on what happened or who is responsible should immediately contact the gardaí or their local Sinn Féin representative."
The Sinn Féin President has also visited Robert in hospital.
A campaign to bring to justice those responsible for the shooting has been established, a campaign that Sinn Féin supports 100%. The Justice for Robert Delany Campaign was launched at the Plaza Hotel Tallaght last January and last month the campaign launched a website outlining the case and describing Robert the man.
"Robert is best known to all his friends and family as Bob", the website reads. "He has lived in Tallaght all his life where he attended both the local primary and secondary schools.
"Bob has a huge group of friends of all ages; we often call him an 'aul fella' as he would rather sit in a bar with the older men than go out clubbing with the younger group. A phrase Bob often hears from his family is that 'he was born in the wrong era'.
"He loves Irish ballads and Bob Marley and isn't into the modern music that his own age group would be listening to."
The website describes Robert as having been a very happy individual.
"Bob loved his job as a postman and made many friends there. For those who know Bob he is best described as a happy person always out for a laugh, a great mate and a devoted father."
The Justice For Robert Delany website is about highlighting not only Robert's case but other as yet unsolved cases of violence against the innocent, with the aim of keeping the cases in the public arena. The site also invites people to use a confidential telephone number to forward any information on the attackers and offers a €20,000 reward for information leading to the conviction of Robert's attacker. This is money that the family is committed to providing from their own savings.
Gerry Adams has met the family on a number of occasions and again as recently as two weeks ago. Local Sinn Féin Councillor Seán Crowe meets Robert's father, Terry Delany, on a regular basis to offer continued support to the devastated family.
"I met with Terry Delany a week ago and the family continue to have Sinn Féin's full support in their fight to secure justice for Robert. Unfortunately Robert's condition remains the same but they family remain solid in their determination to get justice."
Speaking to An Phoblacht,  South Dublin County Councillor Cathal King, a Sinn Féin colleague of Seán Crowe's, reiterated the call for anyone with information on the shooting to come forward and talk to the gardaí or transfer the information through the confidential number listed on the website. He has also submitted a motion to the council.
"I put a motion to the council to state that the council supports the Delany family in their search for justice for Robert. I also raised the issue at the national Sinn Féin councillors' meeting last Saturday in the Gresham Hotel and asked them to raise the issue as well. We are trying to bring an end to some of the suffering of the Delany family."
As the campaign website states – "The Delany Family will continue with the campaign for however long it takes to get justice for Robert."
An Phoblacht Magazine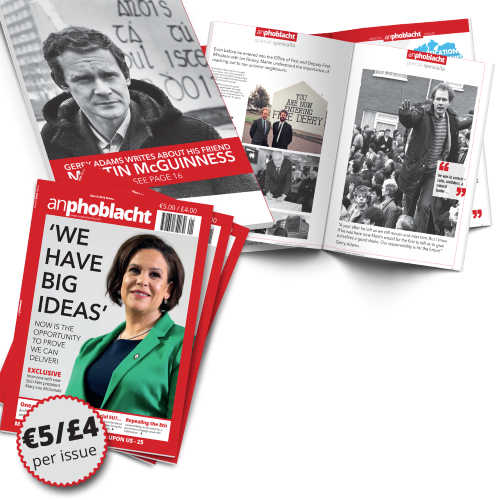 AN PHOBLACHT MAGAZINE:
The first edition of this new magazine will feature a 10 page special on the life and legacy of our leader Martin McGuinness to mark the first anniversary of his untimely passing.
It will include a personal reminiscence by Gerry Adams and contributions from the McGuinness family.
There will also be an exclusive interview with our new Uachtarán Mary Lou McDonald.
test