15 October 2009 Edition
Policing and Justice transfer - time to move ahead
NEGOTIATIONS on the financial package for transferring Policing and Justice powers from Britain to the North of Ireland concluded over the past week in Downing Street.
The Sinn Féin focus in this negotiation was to ensure that a future Policing and Justice department in the North would have an adequate budget while at the same time ensuring that other departmental budgets would not be affected by transfer. This has been achieved.
This negotiation was not about the principal of transferring powers. It was solely about trying to ensure that an adequate financial package for Policing and Justice in the North would be in place when transfer happens.
There is clearly significant opposition to transfer within sections of the DUP. This is based solely on those within that party who hark back to the past – those who have yet to reconcile themselves with sharing power with nationalists and republicans on the basis of equality within the all-Ireland political architecture of the Good Friday Agreement.
This matter was agreed at St. Andrews. Both governments committed that it would happen by May 2008. They are already in default. The DUP leader Peter Robinson subsequently agreed a process in November which would lead to the transfer of these powers. It is now time for Peter Robinson to step forward and honour the commitments he has entered into.
The DUP leader has for some time put the issue of finance up as the reason for delay. That issue is now resolved. The time for DUP excuses is over. It is now time to move ahead.
Attempts to link other issues such as parades to the transfer of powers is a non starter. If the DUP leader decides now to go down that road then his agenda would become quickly exposed.
The transfer of powers on Policing and Justice is not simply a republican demand. It is a sensible and necessary part of constructing a democratically accountable civic policing service. It needs to happen and needs to happen quickly.
An Phoblacht Magazine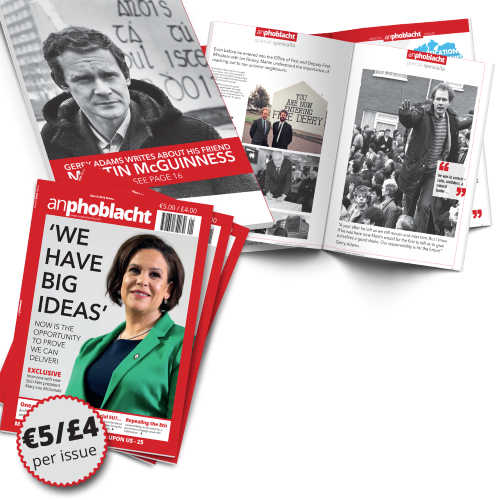 AN PHOBLACHT MAGAZINE:
The first edition of this new magazine will feature a 10 page special on the life and legacy of our leader Martin McGuinness to mark the first anniversary of his untimely passing.
It will include a personal reminiscence by Gerry Adams and contributions from the McGuinness family.
There will also be an exclusive interview with our new Uachtarán Mary Lou McDonald.
test