1 October 2009 Edition
Conquering Misery - Mountain Challenge 2009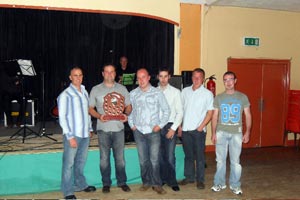 A BIG congratulations to all those who stepped up to the mark for the Brian Keenan Annual Mountain Challenge on Saturday 5 September.  Out of 186 participants, 183 completed the challenge from Bloody Bridge, Newcastle, Co. Down right over Donard Mountain, the highest peak in the Six Counties and on to Deer's Meadow which was a gruelling 16.5 kilometres.
We had a good geographical spread of walkers from all over Ireland, men and women, young and not so young.  What was striking this year, apart from the good weather, was the number of young people who participated.  The first hiker to conquer Donard was 13-year-old Micheal Caraher junior, from Cullyhanna, South Armagh. His sheer determination was rewarded with  a well-earned prize at the end of the night.  Despite being a tough hike over to Deer's Meadow, everybody, bar three, completed the first half of the course. Bobby Storey presented those who decided to call it a day at the half way mark with a very fitting Brian Keenan Annual Mountain Challenge badge.
The South Down activists must be commended for the work they put into the event to make it such a success. Parking, registration, marshals, and the catering were organised in such a professional manner leaving the walkers in no doubt they were being well looked after. The refreshments at the halfway mark helped to provide a much-needed boost to both the energy levels and the morale of those who were up for completing the course.
The third peak of the second half, Mount Misery, was such a heart breaker. But at the final count, 80 walkers made it back to Rostrevor, which is twice as many as last year. The pace was much quicker than before with the final walker, Brendan Killeavey from Offaly, making it back to base camp for 7.00pm. The Brian Keenan Memorial shield went to the Young Turks team from South Armagh who came in first (8 hrs 37 mins) followed by Shauneen Baker's team form Ardoyne (8 hrs 46 mins) and third was Packy McDonald's team (9 hrs 39 mins). Declan Moen completed the course in 5 hours 38 minutes, definitely a candidate for both the Olympics and a urine test.
The craic on the day was good, the weather was fine, but it was tough going, particularly the second half. All who participated, on the day, must be commended on what was a tough and challenging event.
It will be much easier next year, if you start your training today!