1 October 2009 Edition
Remembering the Past: Robert Emmet's executed comrades

BY MÍCHEÁL Mac DONNCHA

ROBERT EMMET is one of the best remembered Irish patriots but less well known are his comrades who were also executed for their part in the Rising of 1803.
Emmet was put to death on 20 September 1803 in Thomas Street. Prior to that, from 1 to 17 September, Dublin had seen the execution of 14 men. Six more were executed after Emmet, two in Dublin, two in Downpatrick and two in Carrickfergus.
Born of a professional Dublin family, Robert Emmet was reared in a political household where Irish and French were spoken. His father was progressive in politics and his brother Thomas Addis Emmet was a member of the Society of United Irishmen. He was exiled and imprisoned in Scotland after his arrest in 1798.
Robert Emmet was determined to strike a blow for Irish freedom following the defeat of the United Irish Rising of '98 and the intense repression which the British imposed in its aftermath. Far from being an impractical idealist as often imagined, Emmet was very practical in his preparations for an insurrection. He devised armaments suited for street fighting in Dublin and built up a secret network of trusted comrades, aware of the manner in which Dublin Castle had infiltrated the ranks of the United Irishmen with informers.
Emmet had several depots in the city where arms were prepared and stored. There was such a depot in Patrick Street and this was rented in the name of one of Emmet's comrades, John McIntosh. Active in the preparations for the Rising, McIntosh was one of those facing trial and execution after the abortive outbreak of 23 July 1803.

MAJOR SIRR
McIntosh was Scottish and had emigrated to Ireland where he married a Dublin woman. The notorious British police official, Town Major Sirr,  spread the word that McIntosh was an informer, an age-old Dublin Castle tactic designed to frighten others into themselves becoming informers. But in October 1803 the English Lord Lieutenant Hardwicke wrote to his brother in London that McIntosh had "refused to give any information whatever, tho' he might have saved his life and returned to his own country in perfect safety".
Thomas Keenan was John McIntosh's brother-in-law and had worked with him at the Patrick Street depot. Thomas's brother, John Keenan, was wounded in an explosion in the depot and died of his wounds. Efforts were made to extract information from him when he was dying in a hospital bed but he refused to inform.
John Keenan was executed on 11 September. Nine men in all, including Emmet and Keenan, were executed that month in Thomas Street, scene of the abortive outbreak in July. Others were executed at Coal Quay, Townsend Street, Palmerstown and Rathcoole.
Jonh McIntosh was executed near the site of the Patrick Street depot on 3 October 1803, 206 years ago this week.
The hanging of Robert Emmet 20 September 1803 in Thomas Street 
An Phoblacht Magazine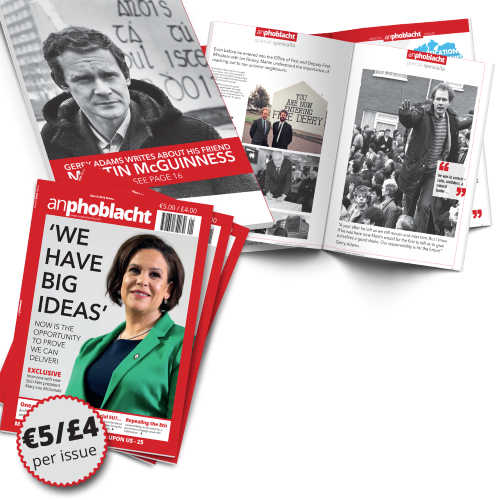 AN PHOBLACHT MAGAZINE:
The first edition of this new magazine will feature a 10 page special on the life and legacy of our leader Martin McGuinness to mark the first anniversary of his untimely passing.
It will include a personal reminiscence by Gerry Adams and contributions from the McGuinness family.
There will also be an exclusive interview with our new Uachtarán Mary Lou McDonald.
test