1 October 2009 Edition
RUC Special Branch failed to stop killing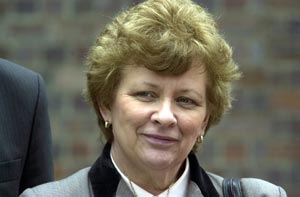 By Laura Friel
RUC Special Branch officers who did not prevent the murder of 26-year-old Margaret Perry in order to protect an informer have escaped prosecution despite a damning report by former Ombudsman Nuala O'Loan.
The body of the Portadown woman was discovered in a shallow grave in a County Sligo forest in 1992, a year after she had gone missing. Perry was abducted and murdered by three British agents within the IRA after she discovered they had been involved in a criminal robbery. The three agents were subsequently exposed and executed as informers by the IRA.
One of the three had told his British army handlers of the plan to murder Margaret Perry but no attempt had been made to stop the murder.
An investigation conducted by the former Ombudsman Nuala O'Loan further discovered that Special Branch officers had also been aware of the threat against Margaret Perry's life but had failed to warn her or take any action to protect her. Protecting the informant was their primary concern, concluded O'Loan.
Despite her findings, O'Loan did not recommend charges be brought against any members of Special Branch. Special Branch has claimed intelligence of the plot was not sufficiently reliable to take action. However this does not explain why information was not acted upon in the event of the murder.