1 October 2009 Edition
Hate crime and the Orange Marching Season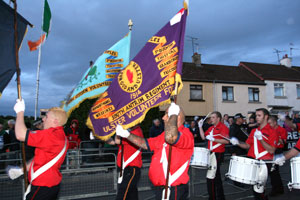 Hate crime is on the rise in the Six Counties. Sectarian attacks by loyalists against Catholics still predominate but the mindset that produces such attacks is now also targeting others on the basis of their ethnicity, their status as immigrants or their sexuality.


By Laura Friel

Addressing a parade in Ballymoney this summer, Grand Master of the Orange Order Robert Saulters told fellow Orangemen that despite the Peace Process Protestants in the North were facing "ethnic cleansing".
Saulters based his assertion on the undeniable fact that around a dozen Orange Halls had suffered damage and at least one Protestant family had been intimidated out of their home, a despicable action for which there can be no justification.
The notion of Protestants in the Six Counties living under imminent threat is a constant theme amongst all shades of unionist opinion but it is particularly prevalent amongst the leadership of the Orange Order.
Of course this could be seen as theatrical oratory but the fact that the mobilisation of tens of thousands of Orangemen is annually accompanied by an upsurge in loyalist violence belies such a benign view.
According to the most recently available official statistics, with one small exception, there has been a significant increase in all categories of hate crime in the North. In 2008-09 the PSNI recorded over 1,500 sectarian attacks, the vast majority against Catholics.
Data compiled by Queens academic Dr Peter Shirlow has shown there are currently at least three sectarian incidents every day. Yet despite this the PSNI has admitted 90% of religious hate crime remains unsolved and unpunished.

Loyalist mob
The most serious sectarian attack this summer took place on the eve of the Orange marching season. A loyalist mob drove into the Heights area, a Catholic enclave of Coleraine.
The Police Ombudsman is currently investigating an allegation that a text message from a member of the PSNI to local loyalists triggered the attack. According to one media report, loyalists drinking in a local bar mounted an incursion after receiving a text message informing them a Tricolour had been erected.
Kevin McDaid was beaten to death and his neighbour Damien Fleming was beaten unconscious and left for dead during the attack. Since the incident, the McDaid and Fleming families, as well as other witnesses have been subjected to an ongoing campaign of intimidation from loyalists. It culminated this month in a further attack on Damien Fleming, only recently discharged from hospital.
It later emerged that eight loyalists charged in connection with the McDaid murder belonged to bands that had applied to parade through the predominantly Catholic village of Rasharkin. Inexplicably the Parades Commission allowed the parade to go ahead.
Of course a loyalist band parade isn't organised by the Orange Order but there is a close association. The same bands, often accompanied by paramilitary flags and other loyalist paraphernalia, routinely parade in Orange marches, as well as practice in Orange halls.

Dangerous decision
The decision to allow 41 loyalist bands to parade through Rasharkin was described by local Sinn Féin MLA Daithí McKay as "irresponsible and dangerous".
"What we saw was a large scale attempt to intimidate Catholics in this village and the Parades Commission's decision to accommodate this was disgusting," said McKay.
And the word 'intimidation' was completely appropriate. Not only were loyalists participating in the parade suspects in a sectarian murder, they were also the focus of an ongoing campaign of intimidation against witnesses to the killing.
As well as that, democratic opposition both by residents and their political representatives had been met with a wave of intimidation and sectarian attacks by loyalists determined to 'punish' dissent.
Catholic premises were targeted in a series of sectarian attacks. A number of properties were targeted in Rasharkin, including a parochial hall, Catholic owned pub and a GAA club. In a separate attack on GAA premises, weedkiller was used to spell out UVF onto playing fields used by local children.
Windows in a Catholic church were smashed on the outskirts of Rasharkin and other sectarian attacks on Catholic churches took place in Cullybackey, Portglenone with a further two in Ballymena. An AOH hall near Ballymoney was also targeted.
And the intimidation didn't end after the Parades Commission decided to ignore residents' opposition and allow the loyalist band parade to take place. After the parade a number of residents and their local MLA, Daithí McKay, received death threats from the UDA.
Meanwhile there were two bomb attacks on Catholic families. An explosive device was left in the backyard of a house in Moneymore. In a second incident a bomb exploded under the car of a Catholic family living in the Fairfield area of Dungannon.
In Ballymena the home of a Catholic family was targeted in petrol bomb attack and the home of a family in Larne was surrounded by around a hundred masked loyalists.

Trapped in Banbridge
In an incident reminiscent of the Coleraine incursion, Catholic residents in Banbridge were trapped in their homes for almost three hours when their area was invaded by up to a hundred loyalists demanding the removal of two Tricolours.
The flags had been erected as part of a Hibernian celebration just two days earlier and were scheduled to come down anyway. The mob removed the Tricolours and erected a Union Flag before leaving.
While anti-Catholic violence makes up the greatest proportion of recorded hate crime in the North, during the same period almost 800 racist incidents were also recorded. Racist attacks have targeted the established Chinese and Asian communities as well as more recently-arrived migrant workers from Africa and Eastern Europe, particularly Roma and Polish workers.

Fascist links
Loyalist paramilitaries have long established links with neo-fascist and racist groups in England and Scotland. The UDA has links with the British National Front and recently the neo Nazi Combat 18 has been actively recruiting in loyalist areas. Combat 18 has links with fascist groupings in Belgium and the USA.
Sometimes the lines between sectarian and racist hate crime become blurred. The 'discovery' that Polish people tend to be Catholic, led to a loyalist onslaught against Polish families in Belfast in the aftermath of a soccer match in which the Northern Ireland team played Poland.  
In a similar incident, loyalists 'celebrated' the fact that they had successfully driven out Roma families living in South Belfast by driving into West Belfast and desecrating graves in the Catholic Milltown cemetery. Over a hundred Roma men, women and children fled their homes after a campaign of racist attacks carried out by loyalists from the Village area.
In a text message of hate circulated by loyalists, Combat 18 threatened "to do whatever it takes" to drive immigrant families out. There was an accompanying racist ditty, in which loyalists ordered Roma families to, "Get the boat and don't come back, there is no black in the Union Jack".
Other hate crimes recorded in 2008-9, included homophobic attacks, attacks on disabled people and attacks on people of other faiths, such as Muslim, Hindu and Sikh. After sectarian and racist hate crime, attacks against Gay, Lesbians and Trans-sexuals have the next highest incidence.

Homophobia
Homophobia is prevalent but not exclusive to loyalism; it is a problem which is evident in all communities. However, the kind of Christian fundamentalism most closely associated with the DUP continues to promote hostility and intolerance. Iris Robinson's promotion of the notion of homosexuality as an "abomination" is completely inappropriate to her role as a public representative.
Clearly, in relation to Robert Saulters' comment, the facts don't fit the fiction and regardless of perceptions, the reality remains that members of the Protestant community are the least likely to be targets in hate crime. It is also equally clear that loyalists play a hugely significant role in the perpetuation of hate crime in the north.
 loyalists 'celebration': Desecration of graves in Milltown cemetery
An Phoblacht Magazine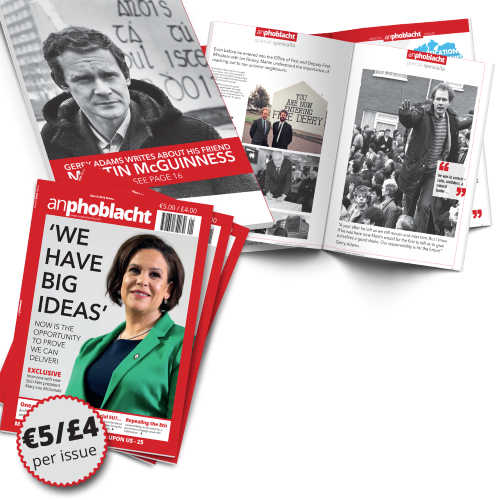 AN PHOBLACHT MAGAZINE:
The first edition of this new magazine will feature a 10 page special on the life and legacy of our leader Martin McGuinness to mark the first anniversary of his untimely passing.
It will include a personal reminiscence by Gerry Adams and contributions from the McGuinness family.
There will also be an exclusive interview with our new Uachtarán Mary Lou McDonald.
test