1 October 2009 Edition
McGuinness speaks at British Labour Party Conference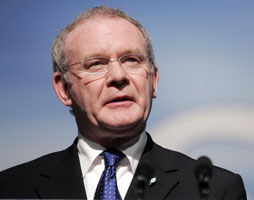 Sinn Féin Deputy First Minister Martin McGuinness this week addressed a fringe event at the British Labour Party Conference in Brighton. As part of a wide ranging speech McGuinness challenged the rejectionists on all sides and warned that progress on transferring powers on policing and justice was crucial in the time ahead.
Pointing out that there are those opposed to the Good Friday Agreement and the St. Andrew's Agreement, McGuinness said dissidents on the nationalist side "have no clear strategy, no plan and no public support". "They seek only to make themselves relevant by carrying out actions which destabilise the institutions and seek to bring us back into conflict," said McGuinness. He continued:
 "On the Unionist side we have some opposed to the institutions, to North/South arrangements and to power sharing. They want to drag us back into a negotiation that was concluded 11 years ago. They believe that an international agreement and the will of the people can be set aside. They believe that nationalists and republicans would consider a move away from equality and power sharing. It is alarming that these positions are gaining some currency within our partners in the DUP.
 "Only yesterday the deputy leader of the DUP was calling for the end of the Equality Commission, the ending of the Human Rights Commission and the ending of North South Bodies. We have had the leader of the DUP and my partner in Government seeking fundamental change to the structures of power sharing.
 "This is at best, the politics of playing to the gallery or at worse a case of self delusion. What was agreed on Good Friday and again in St. Andrews is the way forward. We believe the two governments are committed to the arrangements agreed on Good Friday. However we need all others to work the agreement in partnership and as equals. We need to make it work and to deliver.   
Policing and justice
McGuinness said rejectionists had used policing as a touch stone issue with Unionist rejectionists putting forward the position that Sinn Féin cannot have a role or that more time is required to demonstrate the party's bona fides. "That is clearly offensive and unreasonable. We stand as equals with all other parties on the basis of our mandate," declared the Deputy First Minister. He continued:
"For our part Sinn Féin has sought to develop a fully civic policing service and separate out British National Security interests. We want a police service that all sections of our community can support to tackle criminality, anti-social behaviour and to contribute to community safety. We believe that we have made progress on this and acknowledge that it will take time to change the procedures, practises and ethos of policing. We are engaged with all sections of the policing system to make this happen and to hold them to account for any failures.  
 "However we also need to have a locally accountable Minister in place, not because it is a republican demand, or as a tick -box exercise. We need a locally accountable minister to build confidence and to make informed decisions based on local experience and need.  
"We have been engaged in detailed discussions with the British Prime Minister to put in place financial arrangements which will address the legacy of underfunding of some aspects of the policing and justice system. Our goal has been to achieve a settlement which will allow for the policing and justice system to be run effectively. The British Prime Minister has said that finance would not be a block to transfer. We need him to deliver on this commitment."