1 October 2009 Edition
Referendum Watch ... Referendum Watch ... Referendum Watch ...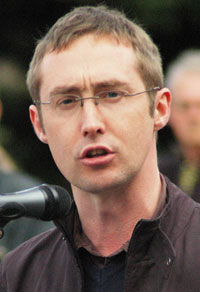 Vote for Change – Vote No
Referenda are an important part of our political culture. They are a profoundly democratic way of making fundamental decisions about how our society is run. They also provide an opportunity to discuss, debate and become more informed about important issues such as the European Union.
Of course referenda have their downsides. As polling day approaches, exaggerated claims and outright lies abound, on both the Yes and No sides.
If the people vote for Lisbon on Friday our abortion laws won't change, conscription won't be introduced and the minimum wage won't come under attack from Brussels. These are all matters for our domestic government.
If the people vote against Lisbon on Friday the economy won't collapse into ruin, inward investment and jobs won't be lost and Ireland won't be marginalised or excluded in a two-speed EU.
So if these claims are untrue, then what will happen on Friday is we either accept or reject the Lisbon Treaty?
If the Treaty is passed on Friday this member state will lose power and influence within the EU institutions. We will lose our permanent Commissioner, our voting strength at Council will be reduced and our automatic right to a referendum on future Treaty changes will be removed.
The EU will advance further towards common foreign and defence policies. There will be a common defence, compatible with NATO. We will increase spending into the European Defence Agency and new defence Start Up Fund and to 'improve' our domestic military capabilities. There will be an EU Foreign Minister and diplomatic corp.  Mini military alliances will be formed to carry our common foreign and defence initiatives, and these initiatives will include military missions beyond peacekeeping and humanitarian assistance.
On the economic front we will see more liberalisation of services such as health, education, and energy, which in turn will lead to more privatisation and more inequality of access to these services. We will also see the further erosion of workers' rights and the very real possibility of greater downward pressure on wage levels across the EU.
If the Lisbon Treaty is rejected on Friday then two important things happen.  We halt this bad deal and prevent its bad provisions from coming into effect. In turn we create the space for a new deal to be negotiated. A deal that promotes democracy, protects public services and workers' rights and takes the EU away from the development of militarised common security and defence policies.
A No vote on Friday is a vote for change. It is a vote against the political establishment in Dublin and Brussels and for a new leadership at home and in Europe. It is a vote against those policies that created economic crisis and for new policies that will empower us to meet the difficult challenges in the time ahead.
The Lisbon Treaty is a bad deal negotiated by a bad government. On Friday you have an opportunity to vote them both out. 

An Phoblacht Magazine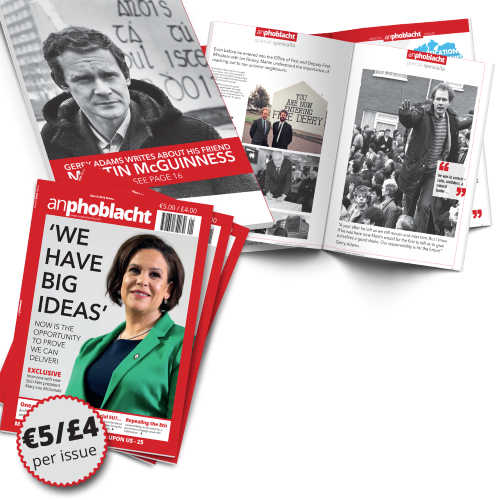 AN PHOBLACHT MAGAZINE:
The first edition of this new magazine will feature a 10 page special on the life and legacy of our leader Martin McGuinness to mark the first anniversary of his untimely passing.
It will include a personal reminiscence by Gerry Adams and contributions from the McGuinness family.
There will also be an exclusive interview with our new Uachtarán Mary Lou McDonald.
test