24 September 2009 Edition
More than a game BY MATT TREACY

Kerry have earned their place in the pantheon
Well it would appear that Kerry have confirmed their place as the team of the decade. Statistics don't lie and five All Irelands in ten years certainly don't lie and they have earned their place in the pantheon of the other great Kerry teams of the past and indeed their record is only surpassed by Mick O'Dwyer's team of the 70s and 80s. And of course Dara Ó Sé has joined the small band of men, all of them Kerrymen, who have won six All Ireland medals as a player.
The match itself delivered less as a spectacle than it had promised. Cork started well and after Colm O'Neill's goal the spectre loomed of another victory like their semi final defeat of Tyrone but that was not to be. Kerry dug in, Tom Griffin recovered from his early mistakes to give almost nothing away, and Kerry comprehensively outplayed and outscored Cork for the remainder of the half.
Conor claimed to be nervous during the interval, although how nervous you can actually be after having been on the batter all day Saturday and from ten o' clock on Sunday morning is another thing, but you could see that there was little uneasiness among the Kerry folk. And even if there had been any doubts they were put to bed quickly in the first ten minutes of the second half when Kerry weathered another Cork onslaught conceding little or nothing, a task that was aided by some pretty erratic attempts to score from the Rebels.
Kerry then did what they had done in the first half, making the most of their chances and keeping a healthy distance between the teams before it petered out to its inevitable conclusion and I left Eamonn and the other Kerry people to savour their victory. The celebrations at the end of a final are no place to be for anyone other than the victors.
What was also worrying for the rest of us is that there is no sign that Kerry are about to rest on their laurels and there will be no mass, if any, resignations from either the playing panel or the management team. There is no reason for them to do so as there is little on the horizon that suggests that another win next year is not a very real possibility.
Tyrone will be affected by changes and are probably due a bit of a rest and rejig but even at that would still be among the leading contenders. Cork, judging by the after match comments from their supporters at any rate and some of the signals from the camp, are currently in a bit of psychological paralysis. Nothing positive can be taken from a final in which they exhibited all of the nervousness that marked their previous championship meets with the Kingdom in Croke Park. Not even the fact that it was not a thrashing on the same lines as a few years ago will be much of a comfort.
Prominent among the negative thoughts of the Cork people was the fact that they appeared, apart from maybe the first ten minutes, to be a different team from the one that easily disposed of Tyrone. They were edgy, as reflected in the bad shooting decisions and even worse execution, and focussed more on trying to second guess the Kerry game plan and stymie it rather than playing to their own strengths.
That was exemplified by the contest between the Kerry half forward line of Galvin, O'Sullivan and Keneally and the Cork half backs; O'Leary, Canty and Miskella, all of whom had been magnificent against Tyrone, not only curbing their strike power but as the engine room for the Cork offence. Indeed Canty was being talked about as Footballer of the Year on the basis of that display and his performances earlier in the Munster championship.
Before the match the talk had been how Kerry would counter that threat but in reality it turned out to be the case that the Cork half backs had their hands too full of dealing with the Kerry lads that attack was the last thing on their mind. Kenneally ran himself ragged and often appeared to have far more space than he ought and was a key contributor to Kerry scores, taking two points himself.
Galvin did not score and Noel O'Leary could be credited with having performed an effective enough man marking job but of course he was always going to have to do more than that and Galvin showed him every blade of grass on the pitch as he roamed about causing havoc or potentially causing havoc. Job done, as they say.
I thought Tommy Walsh had looked slightly dazed or unfocused in the first quarter and it was noticeable that during the earlier period of Cork dominance that he was looking over at the Kerry subs warming up on the line. Whether that had an effect or not is impossible to say but once he scored a magnificent point on 20 minutes he settled and was one of the key factors after that, always dangerous, several times almost getting the break for a goal, and contributing four points from play.
So that's that. Another year, another All Ireland for the green and gold and every one else left to ponder what might have been and how they might prevent them doing it again.
Plus ca change.

An Phoblacht Magazine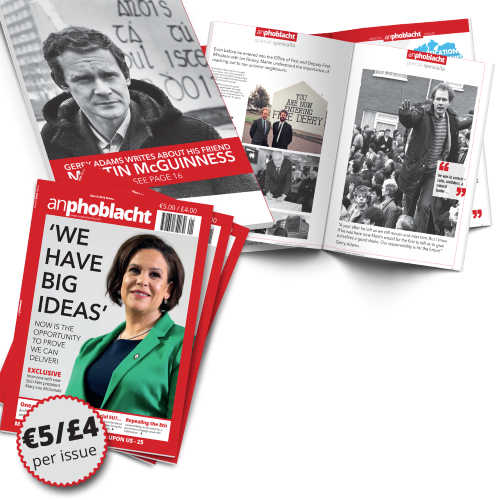 AN PHOBLACHT MAGAZINE:
The first edition of this new magazine will feature a 10 page special on the life and legacy of our leader Martin McGuinness to mark the first anniversary of his untimely passing.
It will include a personal reminiscence by Gerry Adams and contributions from the McGuinness family.
There will also be an exclusive interview with our new Uachtarán Mary Lou McDonald.
test