17 September 2009 Edition
English workers praise Gerry Adams for trying to save their pensions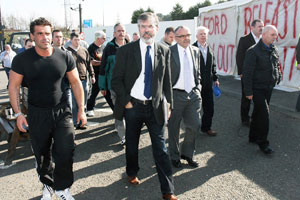 WORKERS in England previously employed by car parts manufacturer Visteon have praised Sinn Féin President Gerry Adams for demanding a full investigation into the firm's pension crisis.
Visteon went into administration in April, leaving more than 600 people out of work when its factories closed in Basildon and Enfield, in England, and Belfast.
The British Government-run Pension Protection Fund is set to take over Visteon's retirement scheme but this could mean up to a 50% drop in the former car workers' monthly pension payments.
The Belfast factory is in Gerry Adams's West Belfast constituency and he joined calls for Ford, which owned Visteon until 2000, to rescue the pension scheme.
Visteon pensioner Paul Bailey (60), of Benfleet, told the Essex Echo county newspaper:
"We all know Gerry Adams's history but I can't fault him for all his support.
"He spoke out earlier this year to help ensure former Visteon workers got the redundancy packages they deserve and now he's backing us over pensions.
"He's a man with a high profile and a lot of influence, so hopefully he can help us a lot."
RECORDS DESTROYED
Last week, Sinn Féin revealed it had obtained documents that Gerry  Adams believes confirms the existence of corrupt practices by Visteon and of efforts by them to destroy company records and conceal their involvement in the displacement of jobs and investment, especially from Belfast (under their so-called 'Cummins D3' project).
The West Belfast MP said:
"This new evidence, which I am passing to British Prime Minister Gordon Brown and to the Pensions Regulator, makes it imperative that a full investigation is urgently undertaken into the Visteon scandal."
Adams reiterated Sinn Féin's firm belief that the rights of former Visteon employees to full pensions must be honoured.