17 September 2009 Edition
Referendum Watch ... Referendum Watch ...
Fine Gael, friend of the worker?
By Eoin Ó Broin
What's the first thing that comes into your mind when you see Enda Kenny peering down at you from a lampost?
Is it the commitment to cut 14,000 public sector jobs in Fine Gael's April 2009 pre-Budget submission? Is it their belief that private for profit healthcare is part of the solution to our hospital crisis?
Well, according to Leo Varadkar TD, it's that Fine Gael is a friend of the worker, champion of our rights, and comrade in arms in the struggle against capitalist exploitation.
The Dublin West TD has promised that if we vote for the Lisbon Treaty a future Fine Gael government would honour the Charter of Fundamental Rights and introduce collective bargaining legislation.
Now this may come as little consolation to the 14,000 workers that would be sacked by the same Fine Gael government, but that's another story.
Indeed, workers' rights are one of Fine Gael's nine key reasons to vote 'Yes' to Lisbon.


** ** ** ** ** ** ** **


SO just how well do our new brothers in struggle know their treaty?
Fine Gael claim that the Charter of Fundamental Rights, "contains new protections for workers' rights".
The strange thing about this claim is that, some years ago, a little-known lawyer wrote a legal analysis of the Charter of Fundamental rights for the Institute of European Affairs. In his conclusion he argued that the Charter "does not create any new rights" and that the social and economic rights in the Charter "do not give rise to direct claims for positive action".
The Institute for European Affairs is a pro-Lisbon Treaty think-tank, headed by former Labour Party General Secretary Brendan Halligan and funded by the Department for Foreign Affairs.
The author of the analysis is the current Fine Gael senator and pro-Lisbon campaigner Eugene Regan.
Clearly, the Fine Gael Lisbon campaign team did not read their Seanad colleague's analysis of the Charter before concluding that it would assist them in their struggle to protect the rights of the ordinary working man and woman.


** ** ** ** ** ** ** **


THE Fine Gael website also forgets to mention that the Charter contains an article that allows its rights to be limited in order to "meet objectives of general interest recognised by the [European] Union".
These general objectives are otherwise known as the four fundamental 'freedoms', namely the free movement of money, labour, goods and services.
In plain English, this means that if a right contained in the Charter (collective bargaining,  for example) conflicts with a general objective of the EU (free movement of services), then the European Court of Justice will ignore the Charter right and side with the general interest.
This is exactly what happened in the Laval case in Sweden in 2007. The European Court of Justice found in favour of a Latvian company that wanted to pay Latvian workers Latvian wages on building sites in Sweden despite the existence of collective wage agreements struck by Swedish employers and unions.
So, when you look up at that poster of Enda Kenny smiling down at you from the lamp-post, the first thing you should think of is Lisbon = Lower Wages. Maybe that's really why Fine Gael is advocating a 'Yes' vote.

An Phoblacht Magazine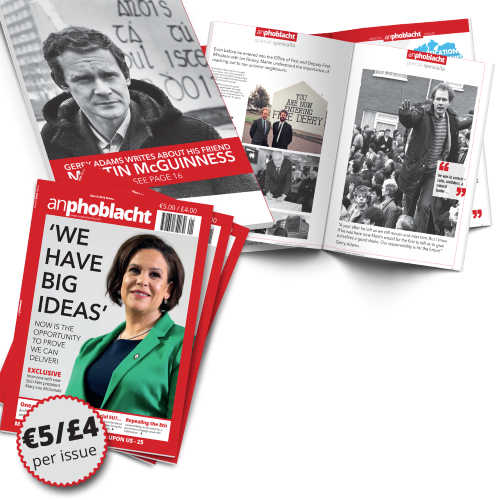 AN PHOBLACHT MAGAZINE:
The first edition of this new magazine will feature a 10 page special on the life and legacy of our leader Martin McGuinness to mark the first anniversary of his untimely passing.
It will include a personal reminiscence by Gerry Adams and contributions from the McGuinness family.
There will also be an exclusive interview with our new Uachtarán Mary Lou McDonald.
test