17 September 2009 Edition
NAMA - Government seeks to rob the people
THE Irish Government, probably the most unpopular in the history of the Southern state, is now attempting to rob the people through its National Assets Management Agency (NAMA) legislation. NAMA will cost approximately €15,000 for every man, woman and child in the 26 Counties.
Over the course of recent years banks in Ireland lent too much to a small number of greedy developers and the Irish Government cheered them on with billions in tax breaks, and the state's banking system has collapsed as a result.
Capitalism brought about the downfall, but rather than let capitalism sort itself out the government is forcing the taxpayer to step in and bail out the banks, the developers and what many citizens now see as an utterly corrupt government.
They want to privatise profit and socialise debt.
Sinn Féin has been calling all summer for a referendum on NAMA. The party has said that the government should not put through a Bill of such magnitude without asking the people if they support it.
There is a way out of the present economic black hole that Fianna Fáil has dug for the country along with its developer and speculator friends. That way is banks nationalisation. It will cost money, but it will not cost what NAMA is costing and the taxpayer will own the banks and be able to clear them out once and for all. The fact is that after NAMA, the government knows it may need to nationalise the banks anyway.
The Green Party's input to the NAMA legislation will do nothing to protect the Irish taxpayer. The Green TDs are now desperately clinging onto their jobs while the ordinary people are hung out to dry.
Sinn Féin opposes NAMA because it is an attempt to legalise corruption. It is about taxpayers picking up the tab for 'Galway tent politics'.
The people do not want Fianna Fáil solutions to the economic crisis for which that party bears a major responsibility. The present government has effectively lost its mandate.
If it proceeds with NAMA, pushes through the cuts recommended in the McCarthy report, and imposes the savage Budget that everyone now expects it to deliver, it may well bring the state to ruin.
Rather than proceed with NAMA, this government should put its ruinous policies to the test by calling a general election.
 SEE ALSO

Sinn Féin TD halts Dáil in NAMA row
 Sinn Féin submission to the Government on the banking crisis and NAMA

An Phoblacht Magazine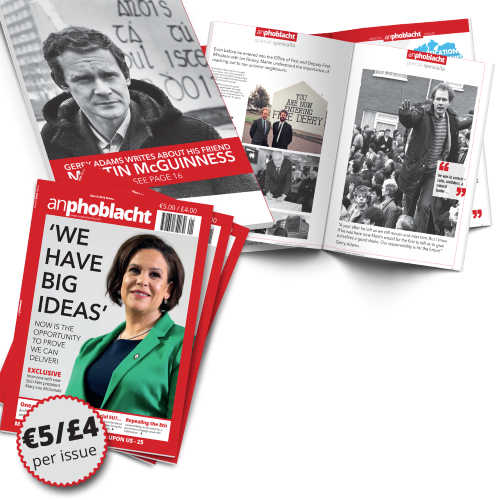 AN PHOBLACHT MAGAZINE:
The first edition of this new magazine will feature a 10 page special on the life and legacy of our leader Martin McGuinness to mark the first anniversary of his untimely passing.
It will include a personal reminiscence by Gerry Adams and contributions from the McGuinness family.
There will also be an exclusive interview with our new Uachtarán Mary Lou McDonald.
test