3 September 2009 Edition
Tax report outdated - Government
The report from the 26 County Commission on Taxation, which is now being published, is completely out of date. The Commission were sent off in 2008 with a set of terms that read like a Fianna Fáil wish list – for example, keeping the overall  tax  take low.
To ensure that income tax can be kept low which,  with  the  income levy, is now a myth anyway – the Commission is due to set out a range of household taxes which will disproportionately affect the less well off.
The tax  system  must  be structured in a way where those who have the most,  pay the most, not in a way that spreads tax across the board with blunt instruments  like  flat water and property taxes. There is also a need to look  at forms of taxation, such as wealth taxes, that Fianna Fáil have done their best to keep off the agenda for obvious reasons.
The fact that the only trade union member on the board refused to sign the report, says much about its content.
Sinn Féin  will  be  submitting  a range of measures in its pre-budget submission later  this year to deal with the state's economic problems, but these will  not include cuts to essential services.  The party will include sensible taxation measures which  it  has  demanded for years and which, if implemented earlier,  would  have protected  us from the economic mess we're in now.
An Phoblacht Magazine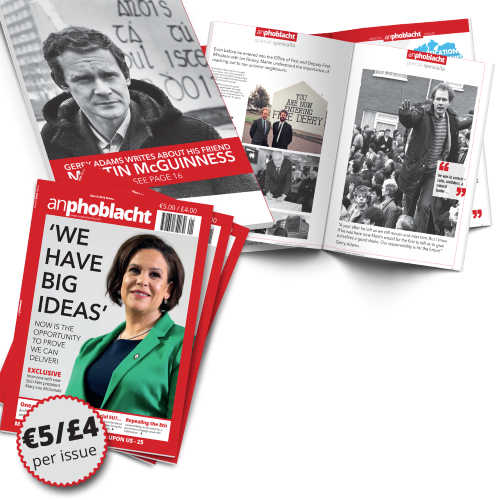 AN PHOBLACHT MAGAZINE:
The first edition of this new magazine will feature a 10 page special on the life and legacy of our leader Martin McGuinness to mark the first anniversary of his untimely passing.
It will include a personal reminiscence by Gerry Adams and contributions from the McGuinness family.
There will also be an exclusive interview with our new Uachtarán Mary Lou McDonald.
test