27 August 2009 Edition
THE JULIA CARNEY COLUMN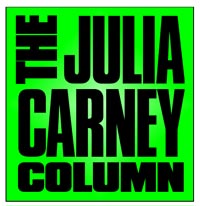 Playing with the big boys
The Brits have always loved the notion of their 'special relationship' with the United States. Since they've never really got over the fact that they're more or less a third rate world power these days the notion that they're taken seriously in Washington allows them to pretend they're still playing with the big boys.
But what do the Americans make of their British allies and in particular, what do they make of the role they're playing fighting side by side in Afghanistan and Iraq?
In the current edition of the New Statesman Stephen Grey writes about a confidential briefing given by a US marine commander to British officers where he outlined his concerns about the calibre of British troops.
British forces were said to "spend too much time 'recovering' from patrols". Note the inverted commas around the word recovering. Are the Yanks basically saying they're lazy?
They're "generally deficient in trained intelligence gatherers... secretive about sharing information... have too many non-battle injuries". Okay, poorly trained, paranoid and clumsy. Got it. Anything else?
They are "cautious about the enemy and overestimate their strength". Sorry, come again, did the Yanks just say in a roundabout, slightly polite, way that the British soldiers are maybe a little timid? Maybe a tiny bit spineless, a wee bit gutless, slightly cowardly? Are they hiding from big bad Johnny Taleban in the bases the Americans think they spend too much time napping in?
"No really Captain, there were like 20, no wait, 30 of them. All big lads too, with guns and rockets and everything wasn't there Corporal?"
"Huge guns Sarge, massive, and I reckon there were more than 30."
"You might be right Corp, could have been fifty, fifty easy. And yeah like, with really huge guns, more like cannons now I think of it. And they were dead fierce looking...and it wasn't just guns and rockets. They had a tank and a helicopter and a battleship and a zeppelin and Mr T and they looked well 'ard so..umm, we basically said, sod this, and ahh, we came home."
So, to sum up, the Yanks think British soldiers are lazy, a little cowardly, poorly trained and ill-disciplined. Is that it?
"Your standards of personal hygiene...aren't good enough."
That's just got to hurt.



Turning to the Sunday Independent, where standards of personal hygiene are no doubt beyond reproach, we find the paper taking a remarkably sensible approach to the DUP inspired controversy about last week's national hunger strike commemoration in Tyrone. Of course DUP Minister Nelson McCausland has since been joined in his outrage by fellow unionist Alasdair McDonnell, not a man to ever miss a chance to stoop a little lower, but the Sindo's having none of it.
"Like it or not, the hunger strikers enjoyed a good deal of support from GAA members in the North," writes Eamon Sweeney.
"To demand that ordinary GAA members in the North distance themselves from the memory of the hunger strikers is not just insensitive, it's ahistorical.
"Mr McCausland should remember it was hateful rhetoric from unionist politicians that created a climate in which Loyalist paramilitaries murdered GAA members merely for being GAA members.The people of Galbally need no lectures from the likes of him. And neither does the GAA."
Maith thú a chara.
Granted Eamon was writing in the sports section but you still have to wonder at that one slipping past the editor's desk. Still, there's a place here for you at An Phoblacht Eamon if Matt Treacy ever decides to move on.
Showing that this is just a hiccup in normal service in the news section we have the usual garbage from Eoghan Harris continuing his imaginary battle against the followers of Plato whose domination of RTÉ makes it the hardline republican socialist broadcaster we all know and love. It's a strange little world he inhabits.



Finally, while walking down Grafton Street the other day I was delighted to see that the comrades in Ógra Shinn Féin were out and about. They've sprayed the slogan, 'Victory to the workers' on the front of the boarded up Thomas Cook outlet occupied by the workers in pursuit of a better redundancy payment a couple of weeks ago.
Slight problem though. In what I have to assume is an indication of the spread of text messaging, they mispelt 'the'. The message actually reads, 'Victory to da workers'.
Seriously boys and girls. It's only one extra letter. It's a simple enough word. We have standards to keep up. I mean it's not as if we're British soldiers now, is it?

An Phoblacht Magazine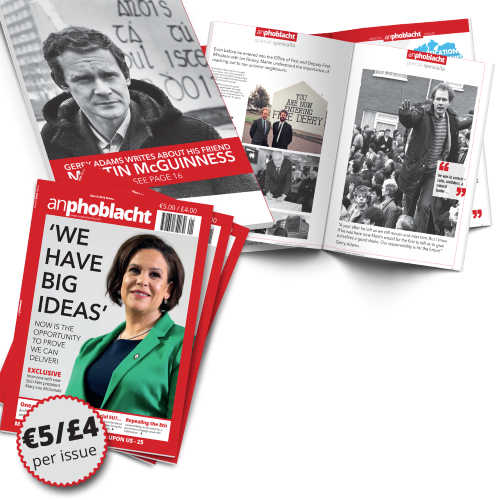 AN PHOBLACHT MAGAZINE:
The first edition of this new magazine will feature a 10 page special on the life and legacy of our leader Martin McGuinness to mark the first anniversary of his untimely passing.
It will include a personal reminiscence by Gerry Adams and contributions from the McGuinness family.
There will also be an exclusive interview with our new Uachtarán Mary Lou McDonald.
test