27 August 2009 Edition
Orde leaves mixed legacy while truth still denied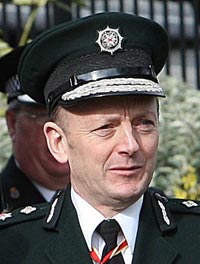 The departure of Hugh Orde as Chief Constable of the PSNI leaves a mixed legacy. While he presided at a time of positive transformation in policing in the Six Counties much remains to be done and his role with others in continuing to withhold the truth about killings by the crown forces was negative.
Commenting on Orde's departure Sinn Féin spokesperson on Policing Alex Maskey said:
"Hugh Orde was Chief Constable during a time of important change within the PSNI and he deserves credit for that. However I am sure he would be the first to admit that this was down to much more than his efforts.
"Indeed his decision to continually withhold information from inquests into a number of disputed killings such as the Pearse Jordan case is the wrong one and has caused much annoyance particularly to the families of those searching for the truth into the deaths of their loved ones.
"For Sinn Féin our focus has always been on driving forward policing change and ensuring that an effective and accountable civic policing service is delivered. We will continue with this approach under the new Chief Constable's tenure."