27 August 2009 Edition
Death of Senator Edward Kennedy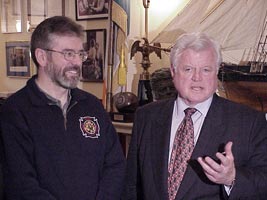 US Senator Edward Kennedy died this week after a long illness. He had been a member of the US Senate for 48 years and was a key legislator, a leading member of the Democratic Party and prominently active on Irish affairs, including during the nascent Peace Process.
Commenting on his death, Sinn Féin President Gerry Adams said:
"It is with great sadness that I heard of the death of Senator Edward Kennedy. He has served the American people with courage and commitment for nearly 50 years.
"His service to Ireland through his role in the Peace Process was exceptional and contributed significantly to its progress.
"My sincere condolences to his wife Vicky and family, to his sister Jean Kennedy Smith, who as Ambassador to Ireland also played a crucial role in the Peace Process, and to his wide family circle.
"My condolences also to his colleagues in the Senate and Congress and to the American people who have lost a champion.
"Ted Kennedy will be much missed."